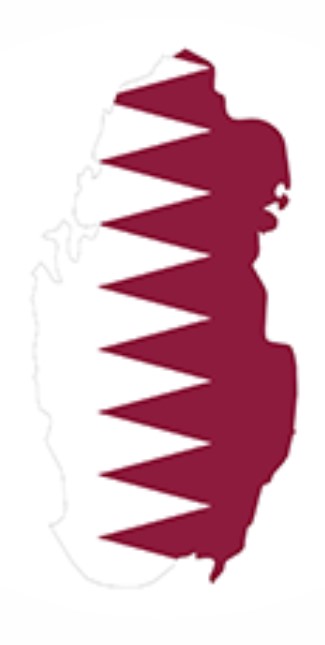 Qatar occupies a peninsula of land (100km wide and 200 km long) that juts into the Arabian Gulf. Since its independence from Britain in 1971, Qatar has emerged as one of the world's most important producers of oil and gas.
It shares a southern land border with Saudi Arabia and maritime borders with Bahrain, the United Arab Emirates and Iran. Qatar includes several islands the largest of which are, Halul, Shraouh and Al-Asshat.
Before we get into the Doha post a special mention has to go out to the Flynas Airline. This is a Saudi budget airline that actually have their seats set at reasonable distances apart. Jill and I got on the plane and actually had legroom (something that Qantas had done away with decades ago). This was only a short flight (about an hour) but that little bit of extra space made it very comfortable and pleasant.
We were not in business and did not pay extra, they just had their seats set at reasonable intervals. So much so that I had about 3-4 inches of space between my knees and the seat in front. It even meant that when that person reclined, there were no issues. And all of this from a budget airline. Take note Qantas, one or two less rows of seats in a plane greatly increases comfort and customer satisfaction.
Doha
We had transited here once before on our way to Greece, but never made it out of the airport (but we did enjoy the platinum lounge) and got to take some happy snaps around the airport. This time we got off and got to experience the friendliest and most helpful airport (possibly) on the planet. Granted it is not as efficient as places like Kuala Lumpur or Singapore, but it is much more friendly and welcoming.
We were approached (which is all too commonplace at foreign airports) as soon as we had cleared customs and hit the outer terminal. But this time it was not by a tout, a taxi driver or a sim card seller. It was by a paid information officer. He wanted nothing, other than to help us with the smooth transition towards what we wanted. In our case, this was to find the metro and buy tickets to take us to our hotel. He was one of many, was super friendly and super helpful.
The metro was stunning, clean, air-conditioned, cheap, easy to decipher and a pleasure to ride on. I immediately loved Doha. Hopping off the Metro we were still a way from our hotel so we then hopped an Uber to take us the rest of the way. This too was clean, cheap and efficient. Doha was such a refreshing change after Saudi Arabia.
It was hot, seriously hot. We had lost 5 degrees in actual heat (from 44 to 39) but had picked up 60% more humidity. This has the effect of increasing the (feels like) component of the weather.
Souq Waqif ( سوق واقف) is the old marketplace in Doha – dating back to the late 19th to early 20th centuries. It is the Middle Eastern experience that we had been hoping for from the beginning. It is a traditional market selling garments, spices, handicrafts, and souvenirs. It is also full of (overpriced) cafes, restaurants and shisha lounges.
We came early in the afternoon – before it had really opened – so got to experience it before the true bedlam set in (typically around 5 pm). Stunning buildings with narrow alleys and the sights and smells of spices were all amazing. We of course were spotted as tourists and drew the throng of touts offering sightseeing trips.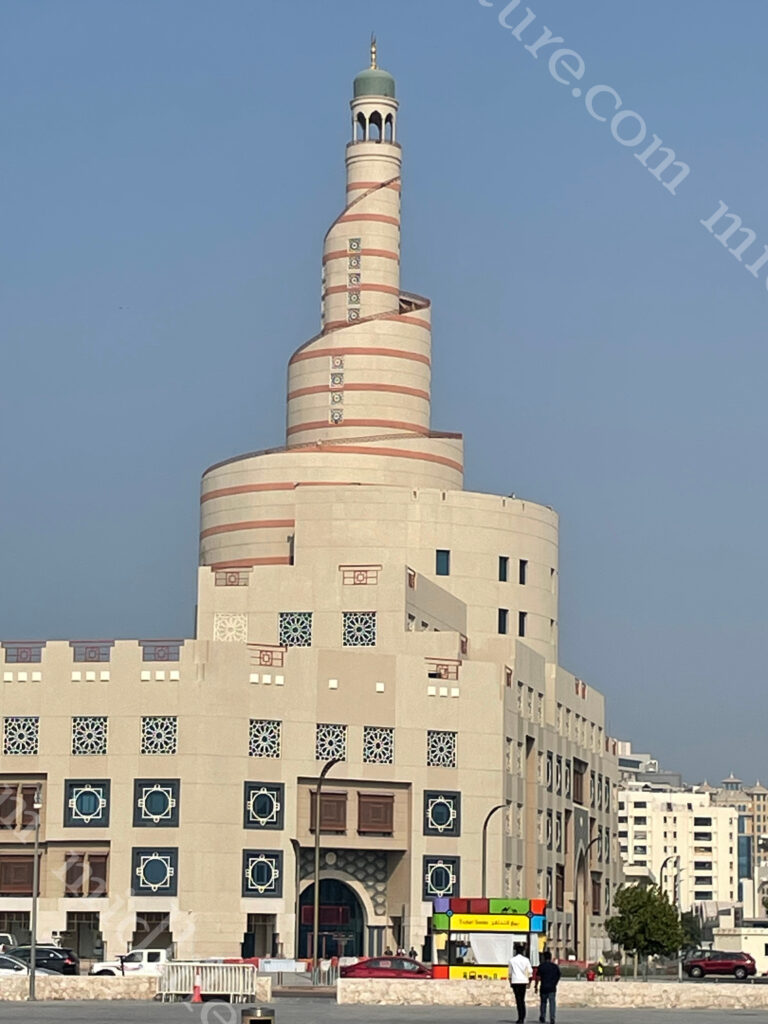 Fanar Mosque towers above the area of the Souq Waqif and the Corniche. It is unique due to its spiral design. Until 2009 it was the largest mosque in the country but still remains the tallest.
It performs as a mosque and also as the Qatar Islamic Culture Center.
The Corniche is one of Doha's most iconic attractions. It is basically a seven kilometer stretch of waterfront promenade. It has a crescent shaped walkway around Doha Bay and offers the best views of the skyline (if you can see through the smog). We walked along the Corniche for a while but the almost 40 degree, high humidity day precluded doing the full stretch (obviously).
Dhow Harbour is the area that offers the best views of the city (smog permitting). The thing that we weren't expecting was the abundance of Dhows. Dhows are the traditional Arabian wooden boats that have been used in the region for centuries. Originally they were used in the fishing and pearl diving industries, but today they are almost solely used for nighttime dinner cruises for tourists.
Our research identified an amazing space ship looking building that ended up being the National Museum of Qatar. So the metro once again got a run for our happy snaps and then an Uber home as it was getting seriously hot by now.
The next thing that I wanted to see was the Pearl. It is one of the largest real-estate developments in the Middle East that sits on 4 square kilometers of reclaimed land. Once fully completed it was expected to create over 32 kilometers of new coastline and increase housing for up to 45,000 residents. We got off the free transfer bus from the metro in the qanat quarter which is a Venice-like community complete with an extensive canal system, pedestrian friendly squares. piazzas and beachfront townhouses.
While we looked at the Qanat quarter we did get to drive past the numerous high-end residential towers and malls that make up the rest of the Pearl Island development. To get a real idea I had to grab one of their promo aerial shots from the tourist website.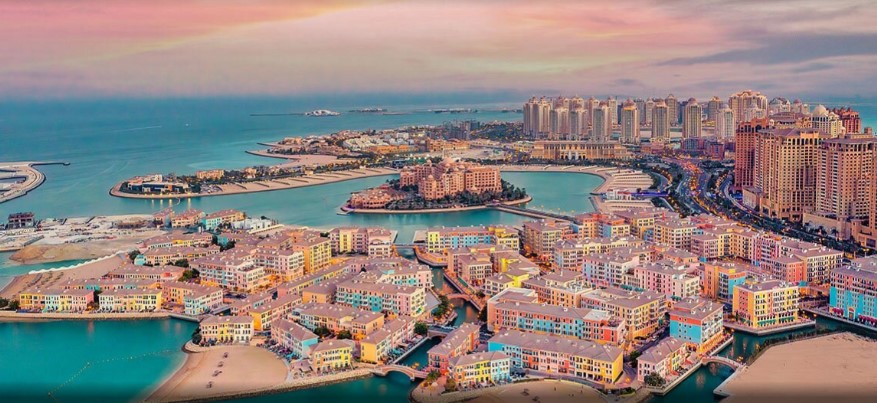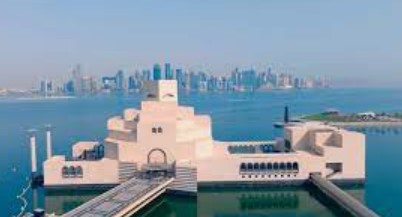 Museum of Islamic Art is at one end of the Corniche and obviously holds a collection of historical Islamic Art.
Katara Towers is a seriously bizarre circular style building looking a bit like pincers. It was allegedly inspired by the national emblem of Qatar, which features traditional scimitar swords. I grabbed the first photo from the tourist website just to show the difference that the smog makes in real life.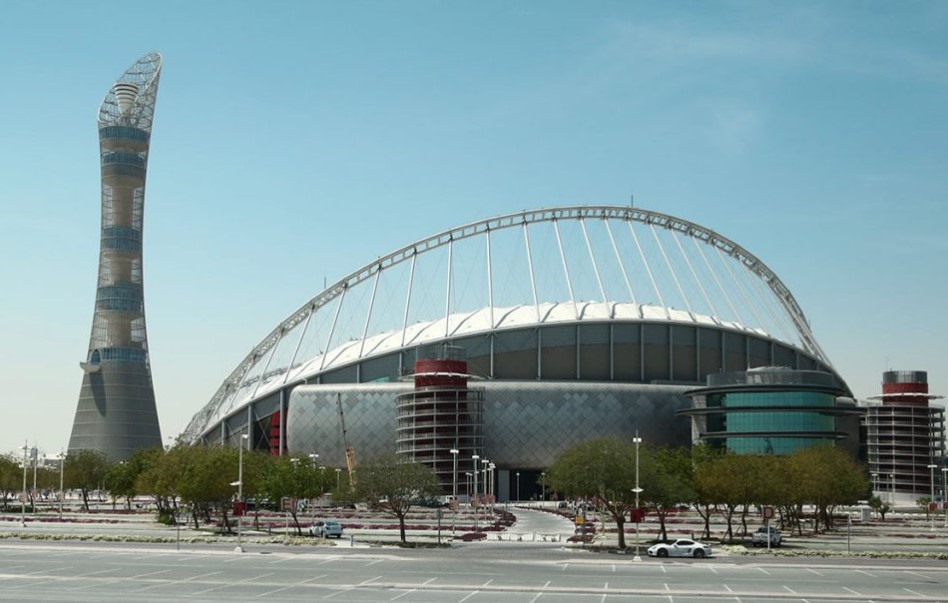 The Torch is a hotel that stands 300 meters tall beside the Khalifa International Stadium. It was built for the Asian Games in 2006.
Zig Zag Towers is an apartment building in the West Bay Lagoon area. They are the highest and largest residential zig-zag twin towers in the world.
It is also connected to the Lagoona shopping mall. The idea of major shopping malls has been huge throughout the middle east so far. As two people who hate shopping malls our only real entries have been to hide from the extreme heat at times.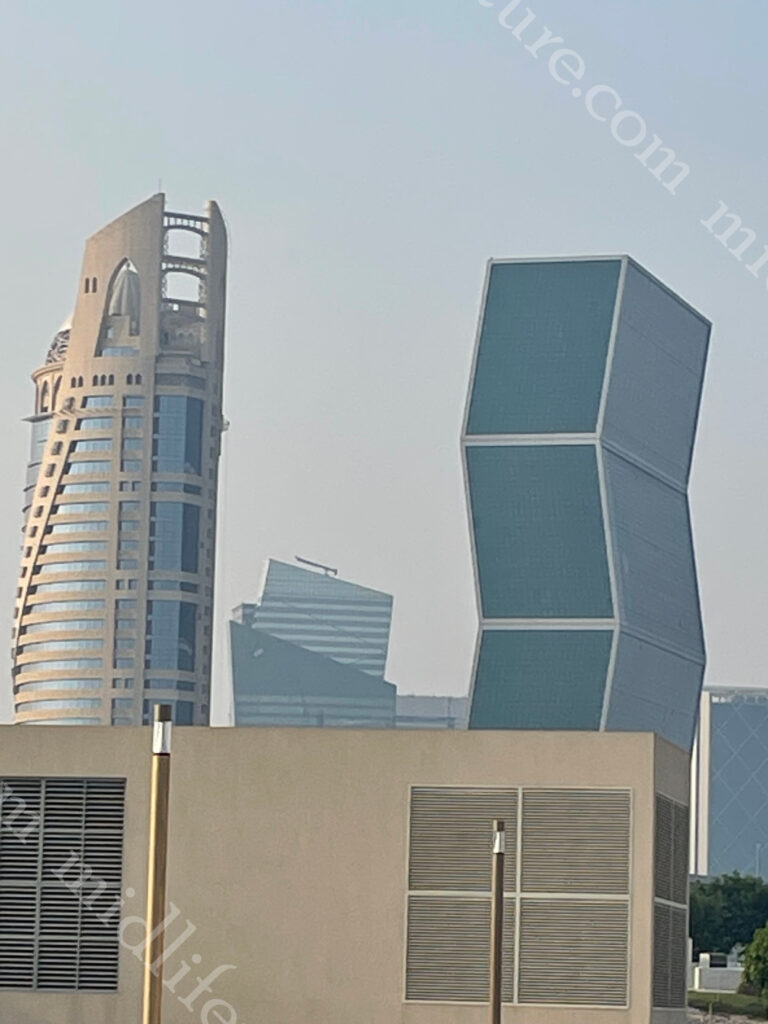 Qatar was lovely. We were here at the worst time of year for weather purposes, but if we had picked our timing better, I am certain that we would love this place. The food was great, the people welcoming. The only detraction was the air quality.