As this next leg we will be hitting a lot of island nations we thought that rather than break them up into full regions, we would do an islands page with the breakdown to happen as sub categories underneath these. This serves the purpose of grouping the various nations and territories without messing up the website too much.
Globally there are about 900,000 official islands in the world. This counts all the officially-reported islands of each country. The total actual number of islands in the world is unknown. There may be hundreds of thousands of tiny islands that are unknown and uncounted.
This will not include the many tiny islands that are a part of other nations and are situated close to the coastlines (other than the external territories). Island nations are so many and varied that it is almost impossible to break them all down. But for the sake of this we will split them into major groupings being:
Pacific Islands or Oceania – this will encompass Melanesia, Micronesia and Polynesia. According to Wiki there are over 30,000 individual islands within this area.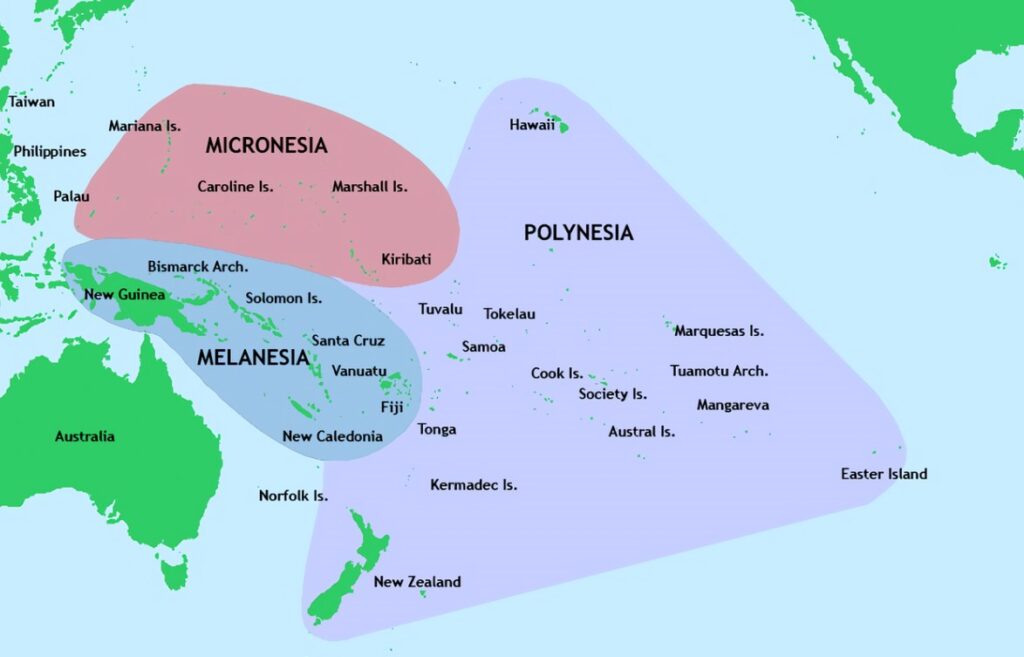 The full breakdown of the Pacific (excluding Australia, PNG and New Zealand) leaves 13 countries (Cook Islands, Fiji Islands, Kiribati, Marshall Islands, Republic of the Federated States of Micronesia, Nauru, Niue, Palau, Samoa, Solomon Islands, Tonga, Tuvalu and Vanuatu).
In addition to the 13 countries there are a further 23 territories (Austral Islands, Bismarck Archipelago (Admiralty Islands, Bougainville, New Britain, New Ireland), Chatham Islands, Easter Island, French Polynesia (Gambier, Tahiti, Tuamotu), Galapagos Islands, Guam, Hawaiian Islands, Juan Fernandez Islands (Robinson Crusoe Island), Line/Phoenix Islands (Canton, Christmas, Enderbury, Fanning), Lord Howe Island, Marquesas Islands, Midway Island, New Caledonia & Dependencies (L'Île-des-Pins, Loyalty Islands), Norfolk Island, Northern Marianas (Saipan, Tinian),
Ogasawara (Bonin, Iwo Jima, Volcano Island), Pitcairn Island, Ryukyu Islands (Okinawa), American Samoa, Tokelau Islands (Atafu, Fakaofu, Union), Wake Island and the Wallis & Futuna Islands. Interestingly, the official list had Tasmania listed separately taking the territories up to 24. But even I am not mean enough to suggest that Tasmania is a territory of Australia.
Caribbean Islands – like the Pacific, the Caribbean is made up of 13 actual countries and a further 18 territories.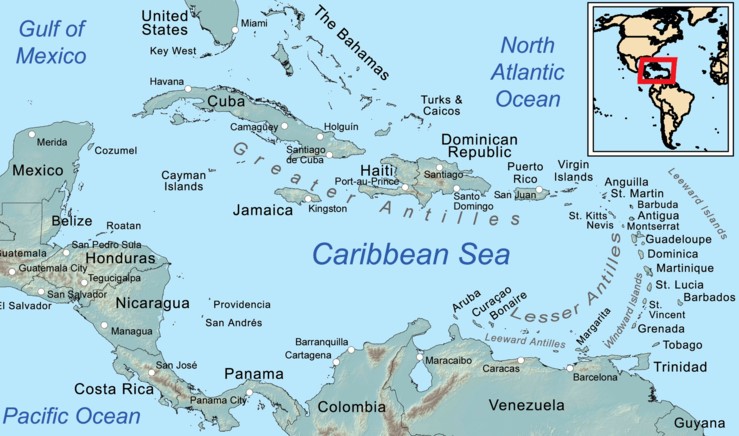 The country list in the Caribbean include: Antigua & Barbuda
Bahamas, Barbados, Cuba, Dominica, Dominican Republic, Grenada & Dependencies (Carriacou, Grenadines), Haiti, Jamaica, St. Kitts, St. Lucia,
St. Vincent & the Grenadines and Trinidad & Tobago.
The additional territories are:
Anguilla, Aruba, Bonaire, British Virgin Islands, (Tortola, etc.), Cayman Islands, Curacao, Guadeloupe & Dependencies (Marie Galante), Martinique, Montserrat, Nevis, Puerto Rico, Saba & Sint Eustatius, St. Barthélemy, St. Martin (France), San Andres & Providencia, Sint Maarten (Netherlands), Turks & Caicos Islands and the US Virgin Islands, (St. Croix, St. John, St. Thomas).