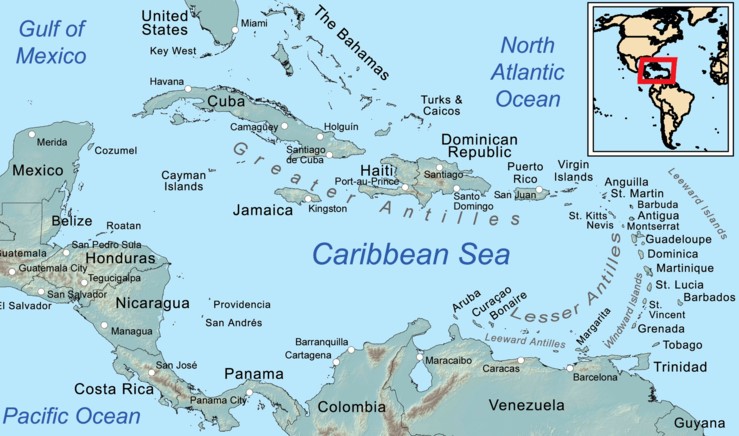 Caribbean Islands – like the Pacific, the Caribbean is made up of 13 actual countries and a further 18 territories.
The country list in the Caribbean include:
Antigua & Barbuda
Bahamas
Barbados
Cuba
Dominica
Dominican Republic
Grenada & Dependencies (Carriacou, Grenadines)
Haiti
Jamaica
St. Kitts
St. Lucia
St. Vincent & the Grenadines
Trinidad & Tobago
The additional territories are:
Anguilla
Aruba
Bonaire
Cayman Islands
Curacao
Guadeloupe & Dependencies (Marie Galante)
Martinique
Montserrat
Nevis
Puerto Rico
Saba & Sint Eustatius
St. Barthélemy
St. Martin (France)
San Andres & Providencia
Sint Maarten (Netherlands)
Turks & Caicos Islands
British Virgin Islands (Tortola, etc.)
US Virgin Islands, U.S. (St. Croix, St. John, St. Thomas)
While not really in the Caribbean, we will be transiting across the Atlantic Ocean and will be touching base in the Canary Islands. These are a Spanish autonomous archipelago in Macaronesia perched off the western coast of Africa near Morocco and the Western Sahara. As they don't really fit anywhere in particular, I have arbitrarily decided to include them in the Caribbean.