We arrived in Amsterdam (the first time) having left the Czech Republic, but were going to come back another few times more, so I held off doing this post to capture all of the bits that we ended up seeing. So when reading along the timeline will be a bit off in sections.
Depending upon your interests there is so much to see and do in Amsterdam, but we warned it is a very expensive city for virtually everything. The tourist sight map below has over 40 museums available to be seen within this small area of the central district. Add to that a further 25 places of interest and another dozen or so tour and canal boat launching sites.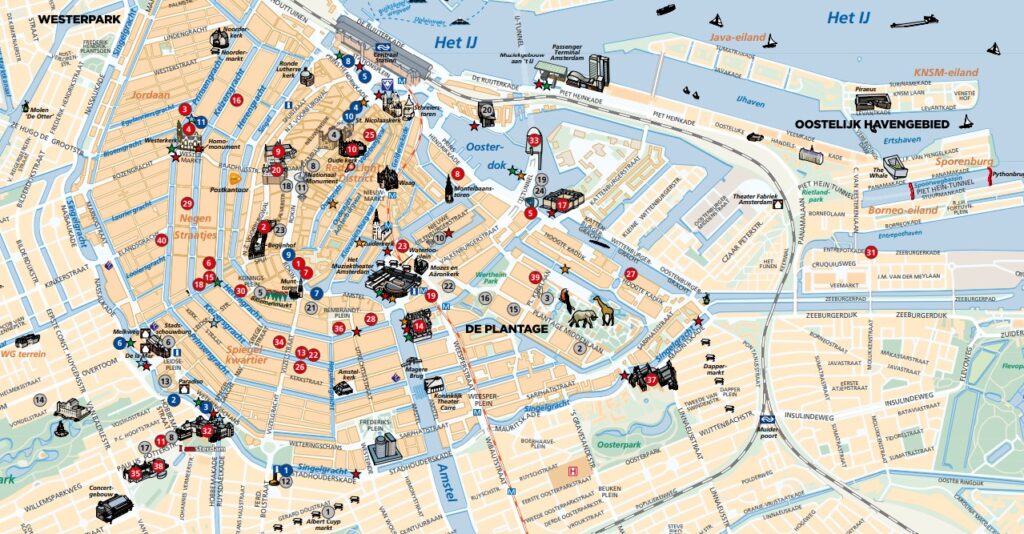 The reality of Amsterdam is that virtually everything is old (400+ years old). And because of this, everything that you look at is old and impressive looking. The first time around we ended up staying at a little (400 yr old) hotel in Rembrandtplein (Rembrandt Square). It was in the centre of everything, surrounded by historical sights and restaurants, and was (almost) ideal.
I say almost because on Friday and Saturday evenings it gets taken over by "English Lager Louts" on football and bucks party weekends. All looking to get drunk and stoned and hit one or more of the live sex shows that are on offer in Amsterdam.
A quick wander up the road from our hotel and we were in the flower market area, along one of the famous Amsterdam canals. Needless to say there were tulips aplenty and bulbs galore.
We were met by Sonja and Michel (from Alkmaar) and were able to have a lovely late afternoon wander around the city, past the canals, looking at various sights. Not being from Amsterdam, I kept pointing at things and asking what they were, to which Michel replied, no idea. This is where we learnt about the festival in Alkmaar and totally messed up this timeline.
The Amsterdam buildings were the most amazing thing for us. Nothing is straight or square. The houses were built (hundreds of years ago on wooden piles that were driven into the ground. Over time these have either rotted or sunk causing the entire foundation of the city to move. Add to this that many of the houses have been given additional floors, which put extra pressure on their foundations. This added weight may have pushed formerly upright buildings slightly forward, creating a slanted facade. As you walk down the street the houses are, almost without exception, at weird angles.
With the timeline messed up, I will go through things alphabetically now. We did the obligatory trip past the Anne Frank House, but this is super popular, and super small so only a trickle of people can go through at a time. When you arrive you are met with about 300 people milling about in front of the building waiting to be called in for their turn. The Anne Frank House itself serves as a museum and awareness centre for those persecuted during the Second World War.
The Begijnhof lies within the Singel — the innermost canal of Amsterdam's circular canal system. It is an inner court which was founded during the middle ages and lies a meter below the rest of the old city center.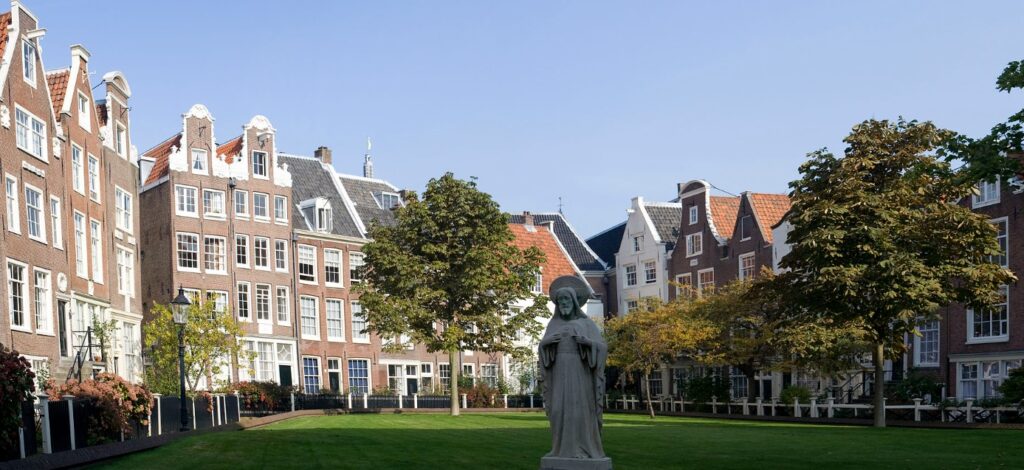 Central Station is a seriously impressive building to look at in the heart of Amsterdam. Sadly it does not function anywhere near as impressively as it looks. We made many trips in and out of here over the period and, for the most part, it was highly complex and inefficient. But, it does look very pretty.
Dam Square lies in the heart of Amsterdam at the original location of the dam in the river Amstel to prevent the Zuiderzee sea from flooding the city. It was created in the 13th century and has been the centre of activity since those times. It is dominated by the jewel in the crown the Royal Palace (Koninklijk Palace). Opposite the palace is an obelisk that was built in memory of Dutch soldiers and members of the resistance who died in World War 2.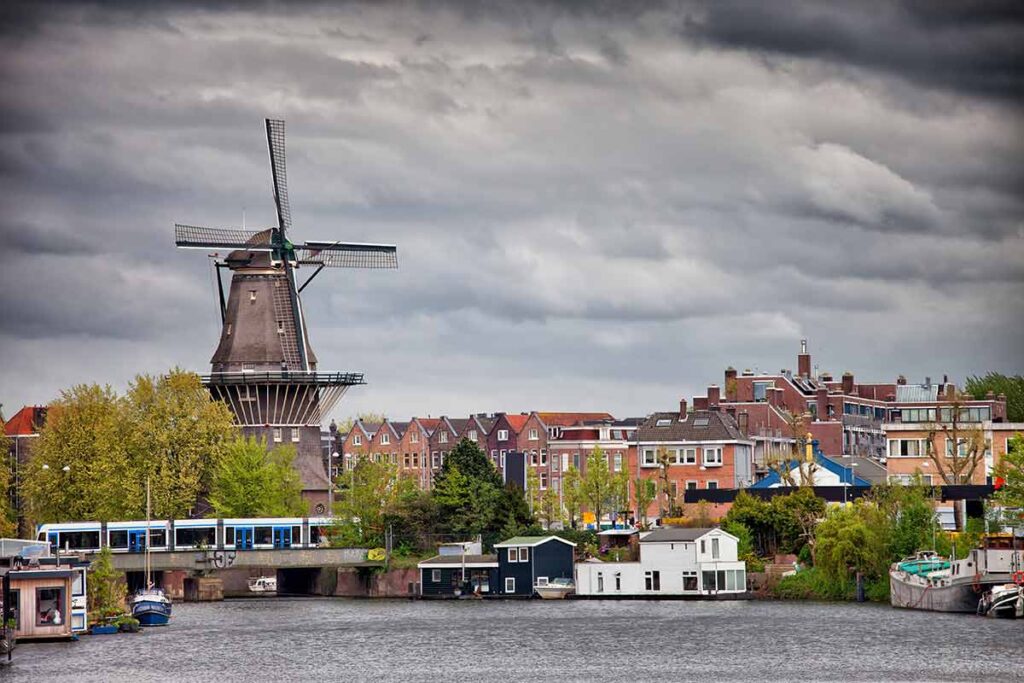 The De Gooyer windmill, is one of the most famous windmills in the Netherlands. It is octagonal in shape and dates back to the 16th century.
The Heineken Experience is a tour of Heineken's oldest brewery, in the heart of Amsterdam. You can learn all about the brewing process, innovations, and even learn about the best way to taste and enjoy beer.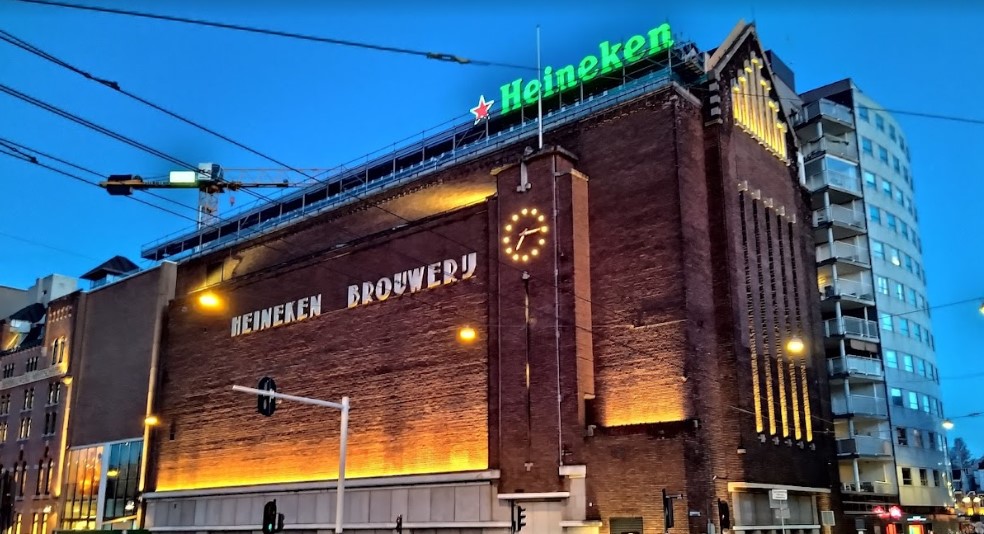 Interestingly, most Dutch people don't drink the stuff, preferring some of the more interesting beers on offer. I must say that I agree with them.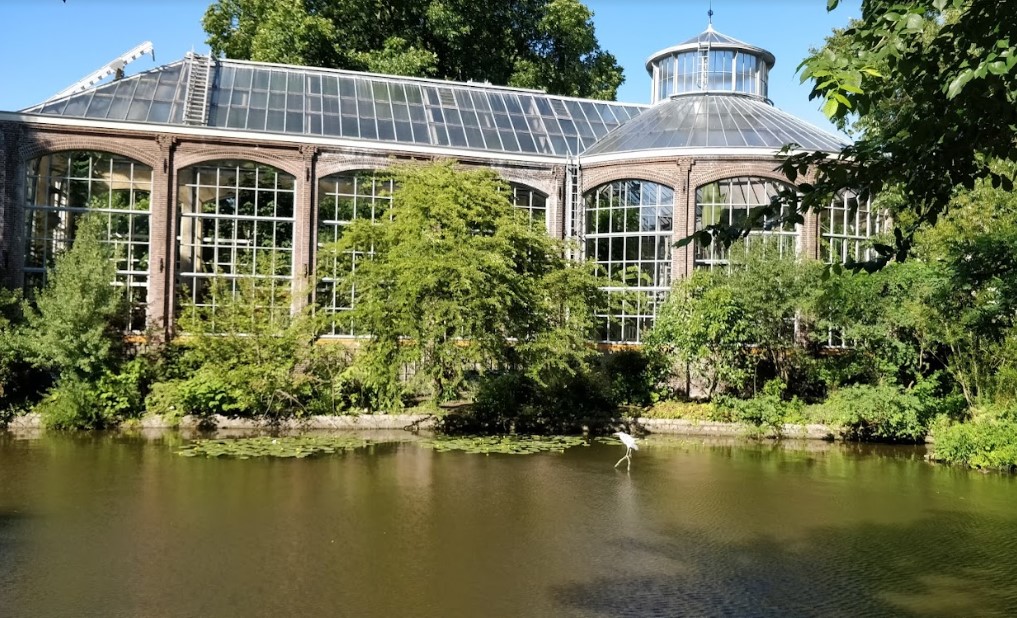 Hortus Botanicus is a 375 year old tribute to all things botanical. More than just a pretty series of gardens the Hortus library has botanical descriptions from explorations going back to the 16th century.
Museum Our Lord in the Attic was built in 1663, when Catholics lost their right to worship.
So a Catholic church, known as Ons' Lieve Heer op Solder (Our Dear Lord in the Attic) came into being in the attic of a large building. This has subsequently become a museum.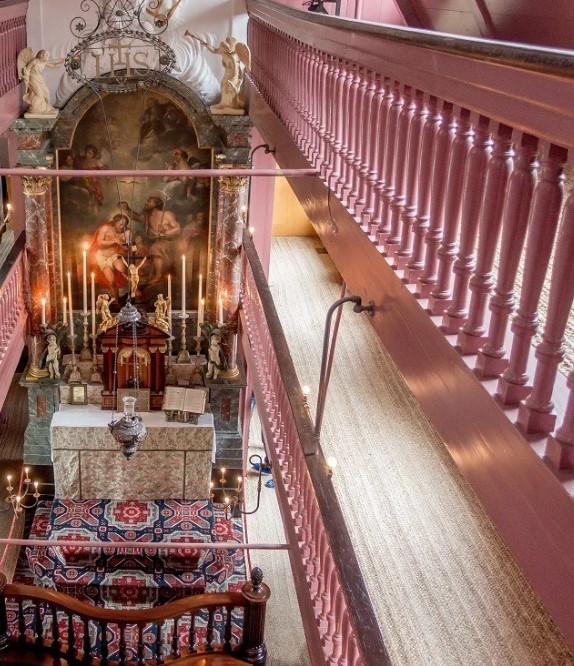 The Rijksmuseum is the national museum of the Netherlands. It tells the story of 800+ years of Dutch history, from 1200 to now.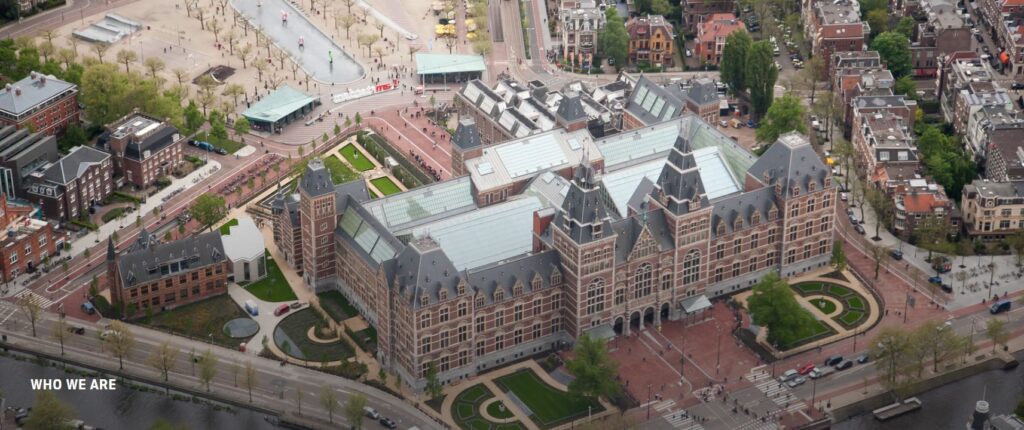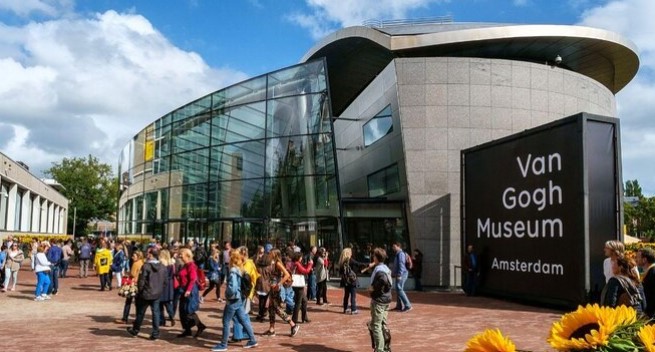 Amsterdam's Van Gogh Museum has 200 paintings, 500 sketches and 750 documents and letters from Vincent Van Gogh. Within the museum are some of Van Gogh's most famous paintings, including Sunflowers and The Bedroom.
Vondelpark is Amsterdam's largest urban park and includes a famous open-air theatre, numerous children's playgrounds and several cafés and restaurants.
And of course it is Amsterdam, so there are canals everywhere you look there is something very special and soothing about a city that is built around waterways. The canals were almost calming enough to make you forget that at any moment you could be run down by a cyclist with scant disregard for anyone else.
As a totally random coincidence, our brother-in-law (Jason) happened to be in town on business.
So we headed to his hotel and caught up for a coffee and a good chat before we headed off to Alkmaar.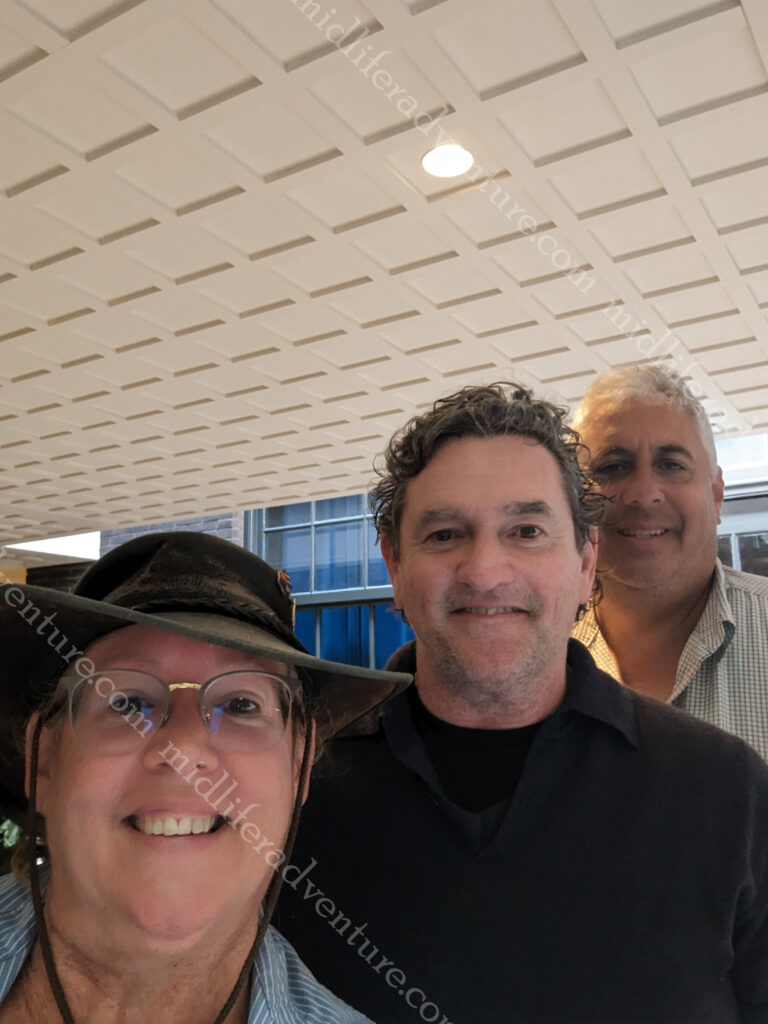 Our second Foray into Amsterdam was after the Germany trip and at least on this occasion the train system and central railway station did not fail us. We had flight out the next day (to Canada for Claudia's birthday cruise of Alaska – see what I mean about the timeline) so we decided to stay at one of the commuter hotels out near the airport.
What a delight this was, the train from central to the airport was simple, from here a free shuttle bus direct to the door, a nice tidy clean room with good internet and a warm shower and a bunch of reasonably priced dinner options.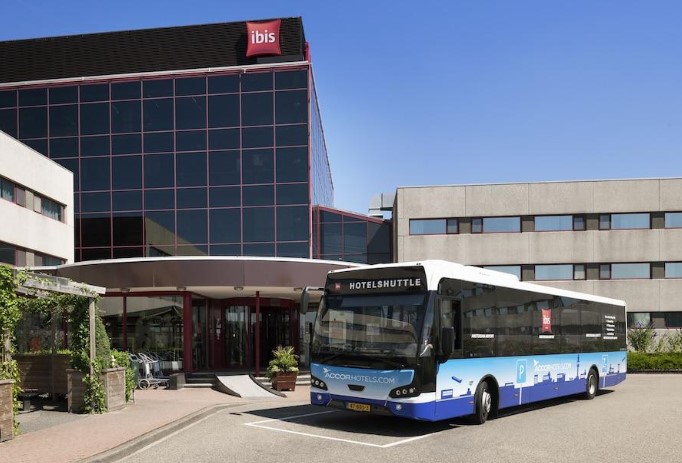 A free breakfast the next day (starting at 4am for those on red-eye flights) and the same free shuttle back to the terminal. A very efficient and welcome transit.
A couple of weeks later, we were back from Canada and Alaska and in Amsterdam for a quick transit. This time we were taking the train out of town so we arrived at the airport and attempted to get the train to central. But alas for the second time in three trips central station was all messed up. We bought our ticket ($20 worth) and headed down to the train station. Once down there, we saw the sign on the board saying that due to a switching problem, all trains to central were cancelled.
So we headed back up the escalator, having kissed our fares away, and then (once again) made our way towards a bus (which we also had to pay for) and began the slow trudge to town. Once over the train debacle, the rest went pretty much according to plan.
We checked into our hotel which was on the third floor (and upwards) of an old building. Given that it was an old building, they were not allowed (by law) to change anything. This meant that there was no lift and that the staircase to reception was two flights high. The individual steps were half the width of a normal person's foot, and they then turned a corner (making them about the width of my foot). And of course, once checked in, we were up another level again. And there was us, trying to lug two, 23kg bags plus day bags up these impossible stairs (after our 25ish-hour transit from Vancouver).
Anyway, we made it up, and back down the next day without too much incident (but with a healthy amount of huffing and puffing). We got a nap in had a nice meal and the world was all good again. The up side of all of this was that the continental breakfast the next morning was magnificent. After a couple of weeks of North American breakfasts, the continental offerings were a welcome sight and the coffee actually tasted nice.
Dutch Beers
On the whole, dutch beers are magnificent. They have not gone silly with the whole microbrewery and IPA thing and have stayed true to their roots. The lager, draught and Pilsner offerings are almost universally fantastic. The coolest thing that they do however, is match their glass shape to the particular beer. This means that each beer comes in a unique glass. Lets not be silly here, it is highly impractical for storage and washing, but a fantastic touch nonetheless.
Dutch food on the other hand is not as awesome. It is rich and hearty and filling enough, but does lack some of the variety and interest that other countries' cuisines offer. There is a huge focus on sausages and stews accompanied with stodgy (but nice) mashed potatoes. Having said that, a regular beer snack (bitterballen) is one of the best things that we have ever eaten.
Overview
The Netherlands is a tough one to rate, bits of it are magnificent while other bits are a broken mess or are brutally expensive. There is certainly a lot of history and the architecture is interesting to say the least. There are museums and art galleries everywhere you look, just as there are knock shops and weed joints. The beer is (for the most part) pretty good, but a beer will sting you a lot of money to buy.
The people are friendly and welcoming, but the cyclists are terrorists wreaking havoc everywhere they go. I would certainly want to come back here but once again the logistics and ease of travel through the Netherlands means that it can be done simply and later on in life without needing much energy .