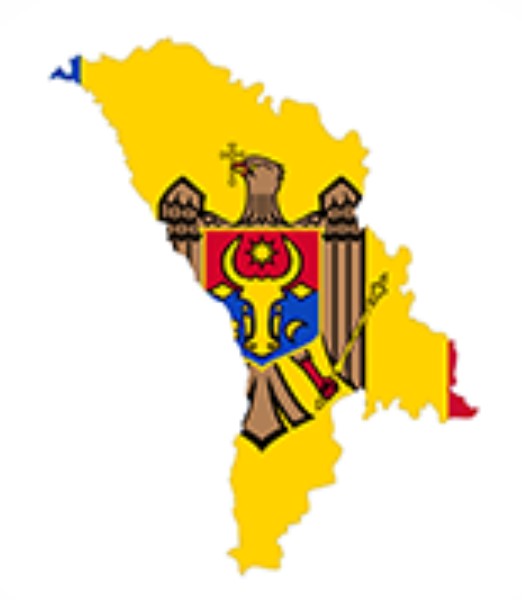 Moldova, is an Eastern European country of about 2.5 million and former Soviet republic. It has a history of winemaking dating back to at least 3,000 BC.
Moldova is bordered by Romania (west) and Ukraine (north, east, and south). Due to the conflict with Russia, we could only get to the capital.
Getting here
Our journey to get to Moldova in the first place was quite the adventure. Jill had us booked on a 14 hour overnight sleeper train (the Prietenia- means friendship) from Bucharest to Chisinau. We had not done an overnight rail journey since Myanmar and India, neither of which were very stellar. Our cabin was thankfully just a 2 person sleeper which was a blessing as we did not have to contend with bunks and other people.
An incredibly gruff man (the attendant) asks to check your passport on arrival and then delivers you your (very interesting) linen in a plastic bag. The ride involved a 2am wakeup at the border (the town of Ungheni on the river Prut) for an exiting passport control leaving Romania, closely followed by an incoming border control entering Moldova. This was also combined with a 1-2 hour bogey change.
The reason for the bogey change is that countries of the former Soviet Union use a wider gauge railway track so that any invading army could not use their railway system to get troops into Russia. And because the Russian tanks were so big they needed a wider gauge. Each wagon is jacked up individually, the bogey is changed and then the train does a series of tests to make sure it all works. And then you are on your way again for the remaining two and a half hours.
All in all it was one of the more entertaining railway journeys, and despite the bizarre goings-on it was reasonably comfortable and hassle free. Probably not recommended for the light sleepers among you but all things considered, pretty good.
Transnistria
Transnistria is a disputed territory (since 1989) that is officially part of Moldova and has many of the touristy things worth seeing.
It is a narrow strip of land between the Dniester river and the Moldovan–Ukrainian border.
For obvious reasons we did not make it here.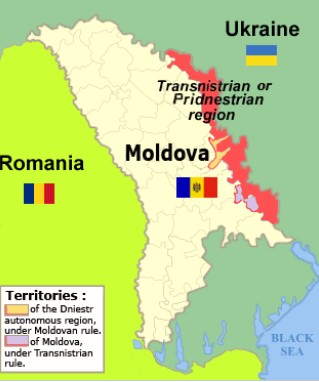 Chisinau
Chișinău is the capital and largest city of the Republic of Moldova. It is the main industrial and commercial centre and lies on the river Bîc. It has a population of a bit over half a million at last count. The city's buildings were badly damaged during WWII but have largely been put back in order.
Our hotel was a bit more of a homestay, with a nice air conditioned apartment upstairs, so we dropped off our gear and cooled down a bit before starting our amblings. But our arrival happened in mid-summer, meaning that the usually temperate climate had turned steamy. So we set off to do our wanderings in 37+ degree temperatures.
In the grand scheme of things there really is not very much to see and do in Chisinau but we did hit the things that were there. The first port of call was to Cathedral park with the Nativity of Christ Metropolitan Cathedral (Catedrala Nașterea Domnului) which was constructed in 1836 for Orthodox Christians. Then up to the Triumphal arch.
A quick diagonal across the road to Stephen the Great Central Park. This is the oldest park in Moldova and covers about 7 hectares. And according to online images, gets pretty cold in winter (I had to put this in to contrast our 37+ degrees).
Having walked to the park in the heat I took the opportunity to sit in the breeze on a park bench and watch the world go by, this was very pleasant indeed. Until Jill decided it was time to move again. So we embarked on a very long, very hot journey (through the embassy district) so that we could see Dendrarium Park. I had been happily sitting in the shade, on a bench, in a park and did not need to hike 4 km just to do the same at a different park. But I did.
So our journey continued on to Valea Morilor park and the lake. It was established in 1950 at the initiative of Leonid Brezhnev and covers 114 hectares. It is on the shore of Valea Morilor Lake, which covers another 34 hectares.
Having done all of this parking, we found a local bus that would take our sweaty selves back in the direction of our accommodation for a well-deserved (and needed) shower. As we had walked through the parks, we actually missed the sights that were on the roads. So rather than heading straight home we got some happy snaps of the buildings that we had missed.
These included the Chisinau City Hall building, Organ Hall, Parliament of the Republic of Moldova and the Presidential Palace.
The buses are something that needs mentioning. They are packed 100% of the time. Packed to the point of not being able to fit another person on, let alone Jill and I trying to get our bags back to the train station on the last day. Did I mention the 37+ degree day. That many sweaty stinky bodies (including our own) jammed onto buses, did not make for a pleasant experience. Add to this the random ticket collector lady who wanders among the crowd, a bit like a sheepdog in a flock, getting money for those entering and exiting.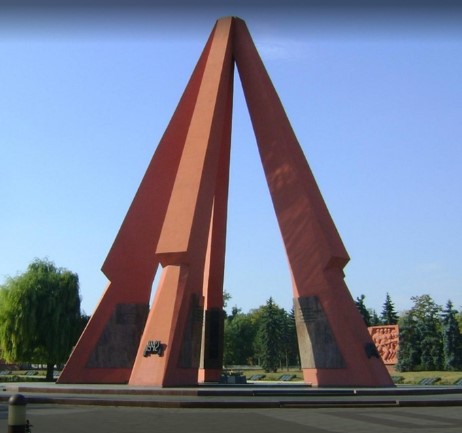 The Victory Memorial and eternal flame. It is dedicated to Soviet soldiers who died in WWII.
The memorial is a pyramid of five 25-meter-tall stone rifles. A 5-pointed star with an eternal flame in the centre of the monument.
Cricova Winery is a real underground wine city with wide streets, warehouses, and tasting rooms. The total length of this winery is 120 km.
In terms of time, we totally overdid this one. There really was not too much to see and without the extreme heat, you could easily have gotten around to see everything in a day. The train ride in was great (kind of) and in reality, you could have caught the overnight train in, arriving at 8 am, seen everything and caught the return train back, departing at 5 pm the same day.
I could only find the one local Moldovan beer that was very pleasant and along the Czech lines, but I was however able to sample some Ukrainian numbers. I must admit, they were pretty good. The best bit was that if you bought them at the local bottle shop you could get a 500ml bottle for between $1.50-1.80.
That sort of pricing goes a small way to offsetting our tanking Aussie dollar. The state of the Aussie dollar is seriously impacting our budget and without some improvement on the economic front, we may need to come home and be adults and get jobs again. Now that truly would be disappointing.
While there was not a ton to see and do here in Chisinau, everyone we met was absolutely lovely and friendly. On our last day we were due to check out at noon but not to catch our train until 5 pm. The lady running our place (who spoke zero English and probably didn't get too many guests like us) let us stay in the (air-conditioned) room until we were ready to leave at no extra cost. When leaving she could not help herself but to hug Jill on the way out and pray that everything was OK.