Well getting here from Germany was no mean feat. We hopped a train from Hamburg to Dusseldorf where we switched to head to Amsterdam and switched again to head to Schiphol (the main airport). We then crashed briefly before getting up to board a flight to Montreal, a 5 hr layover and another flight to Vancouver. A cab ride later and at 2am we were here.
We set up camp in our accommodation in the West End in a place called English Bay. After crashing out (a couple of times) we were finally awake enough to go exploring. This place was fantastic, once again in the heart of the entertainment area with tons to see and do within a very short walk.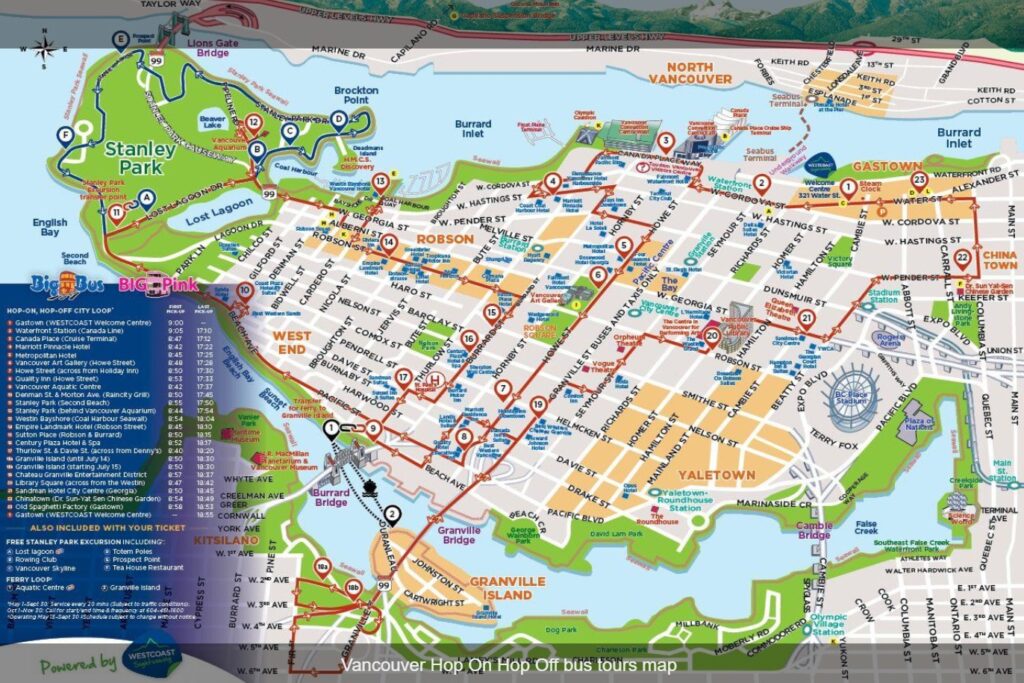 The first thing that we did was reach out to my mate Jeremy's friend (Paul) who lived here and ran the local marina. We had been chatting in the leadup and he mentioned that there were options for whale watching (humpbacks and orcas). And that was quite frankly too good an option to pass up.
So after a little wander around, we met with Paul who offered us a ride in his own boat (in the coming days) and advised that he was able to offer a (50%) mates rates deal on the whale watching trip. All too good to be true from our perspective. After this he also added a drive around on the next night to get some perspective to the Vancouver area.
So the next morning Jill and I were up and doing our meander and we figured that hugging the water was pretty good way to start. Turning right from our hotel we walked to the end until we found ourselves in Waterfront Park near the launching point for harbour cruises. We turned right again and followed the water passing all of the 5 star hotel usual suspects, sculptures, trendy restaurants and bars that you would expect along a big city harbour.
We walked along the seawall taking in the amazing views and admiring the parks that bordered the waterfront. More cafes and restaurants until we found ourselves at Canada Place cruise ship terminal and the Vancouver Convention Centre. Possibly the coolest part of the journey was watching the seaplanes takeoff and land in the middle of the city. Maybe not so cool was the smell of AVGas.
The next morning we got up and decided to walk on the opposite side of the water, so got out of our accommodation and turned left.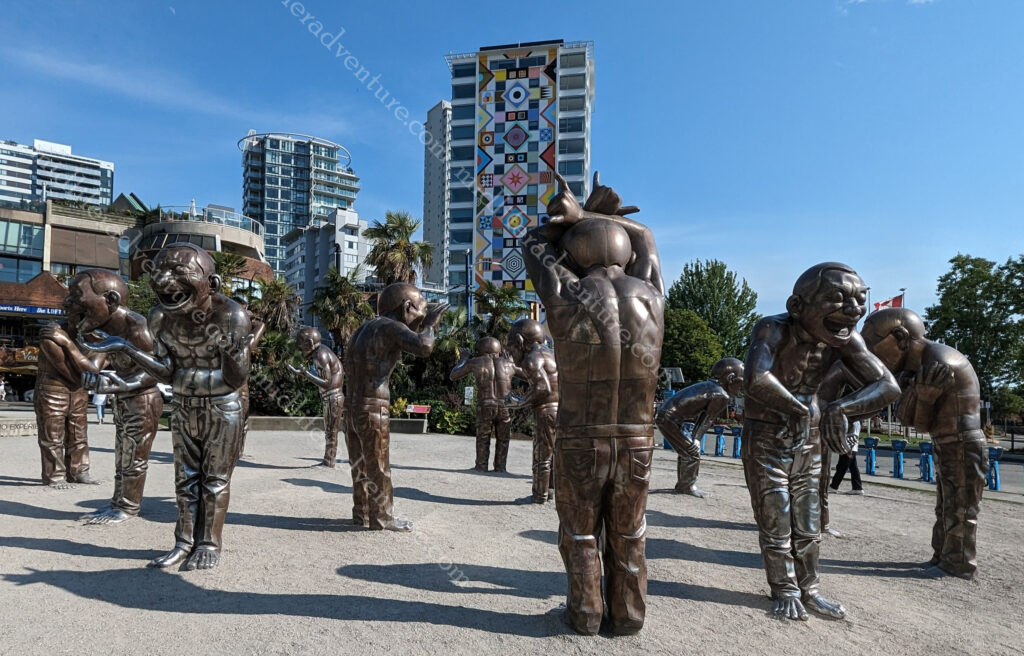 Within 20 meters we found ourselves at the A-Maze-ing Laughter sculpture. A series of 14 patinated cast-bronze figures, each 2.5m tall.
Inukshuk (a human-like figure made of piled stones or boulders). Inuit have been creating these stone markers all over the Arctic landscape.
Inukshuks are meant to serve several functions, including guiding travellers, warning of danger, assisting hunters and marking places of reverence.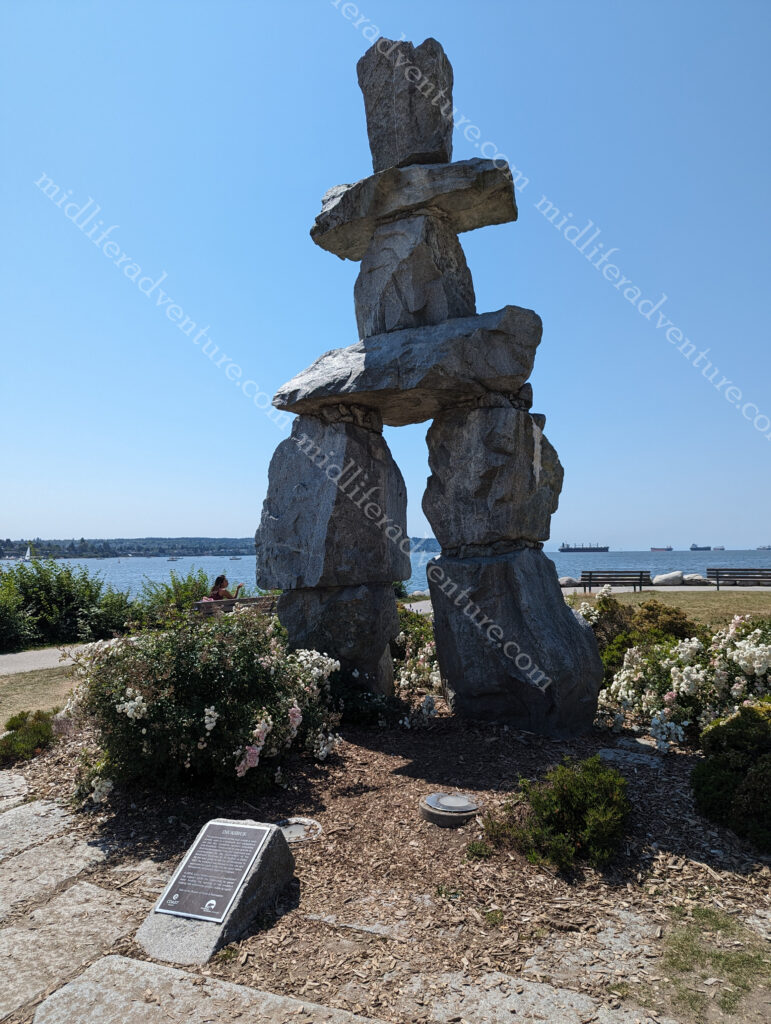 So after our day of wandering about we were collected at around 5:30pm by Paul and his partner Francesca who gave us the guided road tour of Vancouver. This started with a drive across the Lions Gate suspension bridge, to the north shore and up the hill to the Cypress Lookout for some amazing views over the entire city.
A bit further up the hill and we found ourselves at the Cypress Mountain ski resort. There is no actual peak by this name but it refers to a trio of skiable mountains (Black Mountain, Mt. Strachan, and Hollyburn Mountain) that all hosted events at the 2010 Winter Olympics. Being summer there was no snow but we got to see the Olympic rings, a downhill luge and yet another Inuksuk. A look at the map reveals some seriously challenging skiing (well beyond my pitiful level) including double black diamond runs.
From here we headed west to the seaside village of Horseshoe Bay which is the departure point for ferries to Vancouver Island. It is also the starting point for the Sea to Sky Highway, which connects Vancouver to the Whistler ski fields (120 km). It is a really pretty little township (about 1000 people) where we stopped and had all you can eat fish and chips (with unlimited soda refills) for $20. Paul used to work in this area and he recommended it highly. And he was right, the food was amazingly fresh, had only a light batter and was delicious.
Having come back after dinner we did the CBD drive around taking in the key areas of Downtown, Yaletown, Gastown the Waterfront. From here we did the confronting drive along Hasting Street East. This is a major road that, for about 5 blocks, has been taken over by homeless people. It is in essence a shanty town slum full of markets selling or trading the good that had been stolen that day.
The area is the hub of Vancouver's homeless and itinerant issue. The Eastside neighbourhood is described as being "the site of a complex set of social issues including disproportionately high levels of drug use, homelessness, poverty, crime, mental illness and sex work". In the five-block drive, we saw almost every one of the "social issues" described in the list above.
The next day we met up with Francesca and headed towards Paul's work on Granville Island for the promised boat ride. On the way we stopped and picked up cheese, crackers, charcuterie, olives etc. Granville Island is a 37-acre area in the middle of Vancouver, BC and is easily accessible by car, boat, or bus. The island has just about anything you can imagine and includes: the Kids Market (housed in a century-old paint factory and train caboose) a giant indoor Adventure Zone, Canada's largest free waterpark. Added to this is the Public Market, tons of shops, a couple of breweries and more pubs.
Having checked out the docks area, Paul finished work and the four of us hopped on for our tour of Vancouver from the water. It was magnificent. We spent the better part of three hours just putting along in the boat, taking in the scenery.
Whale watching (attempt one)
Well, we jumped onto the boat that Paul had arranged for us (at the mate's rates discount) with the hope of seeing some Orcas. I had spoken to the guys from the company (Prince of Whales) who said that 94% of the time they get to see the Orcas. So off we went on our 5-hour adventure to see the Orca. The first hour was uneventful, so much so that a big fuss was made over an eagle sitting on a pole. In a desperate attempt to show us something they took us over to see a bunch of rock sausages sunning themselves.
But then it happened, at about the 2 hr mark a spout was seen and off we went. We found ourselves in the presence of a juvenile Humpback whale who decided that we were fun. So for the next hour or so this whale hung out by the boat, popping in and out (between dives), blowing whale snot all over us poor boat goers. It wasn't quite the breeding season romping that we see off the Queensland coast, but it was still bloody impressive and worth every penny. Part of the price included a professional photographer who sent out the photos that he had taken, just in case your ones were rubbish. As it happened, our ones were pretty good, I took my GoPro and Jill with her phone.
It was incredibly good, but still no Orcas.