Dubai is thought to have been established in the 18th century as a fishing village, however ceramics dating back to the 3rd and 4th century, have been found in the area. In 1822, a British naval surveyor noted that Dubai was populated with a thousand people living in an oval-shaped town surrounded by a mud wall, scattered with goats and camels.
Dubai is a constitutional monarchy that has been ruled by the Al Maktoum family since 1833. In 1901 it was established as a free port with no taxation on imports or exports and also gave merchants parcels of land and guarantees of protection and tolerance. In the 1950s an airport was built on the salt flats and the first hotel sprung up in 1959. And in 1966 oil was discovered which prompted a construction boom that brought an influx of foreign workers, boosting the population by 300% in 7 years.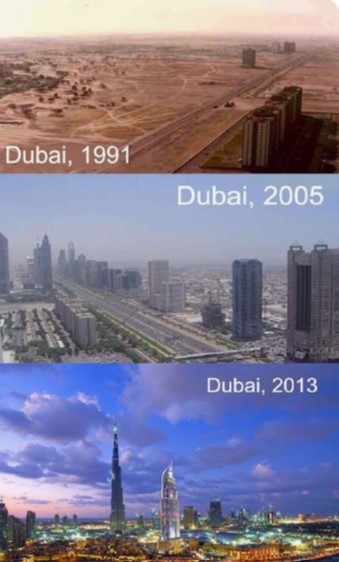 But they knew that the oil reserve was limited when oil revenue started to flow in 1969 one of the first projects was to establish deep water free port.
This was the first of a heap of projects designed to create a modern trading infrastructure, including roads, bridges, schools and hospitals.
After many conflicts in the Middle East Dubai kept its focus on free trade and tourism. but it was not until after the Gulf War that this started to be realised.
In the 1980s and 1990's the city took a strategic decision to become a leading international tourism destination. This stalled for a while with all of the conflict in the Middle East but after the Gulf War, everything really took off. With massive investment in advanced infrastructure and the completion of incredible projects with unmatched speed and scale, the city has become one of the most futuristic cities in the world.
It has quickly become a city with the world's tallest building, richest horse race, tallest choreographed fountains, largest man-made island, most luxurious seven-star hotel and the most visited mall. It has the second most five star hotels (behind London). And ours was one of them. And importantly, we scored yet another room upgrade.
Dubai has been a centre for regional and international trade since the early 20th century, but oil only made up 1% of Dubai's GDP. Its economy now relies on revenues from trade, tourism, aviation, real estate, and financial services. The real estate boom has seen some of the most fantastic marina and land reclamation developments ever conceived. So much so it needed a google earth capture to show it properly.
Most importantly, I got to catch up with yet another old rugby buddy (Dave) who had set up camp with his wife (Emma) and kids in Dubai.
Getting their take on life in Dubai was truly fascinating.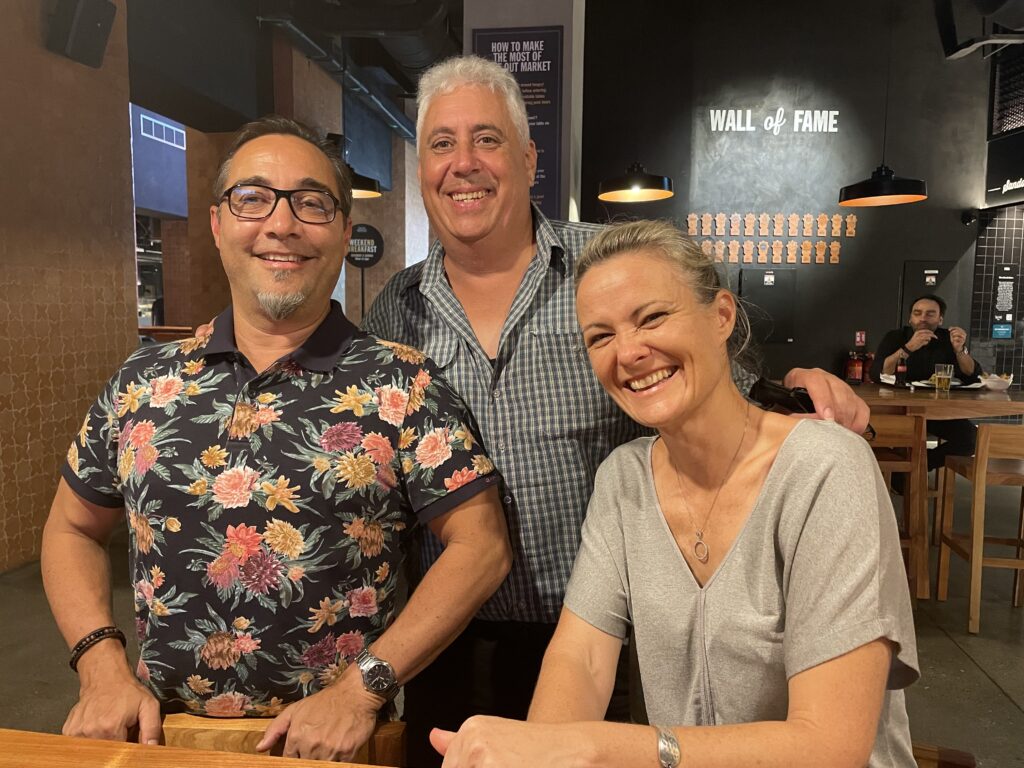 Our evening involved a fantastic catch-up over some of the most expensive beers that we have had since being in Iceland. We had dodged the booze throughout the Middle East until now because the pricing was ridiculous. But a couple with an old mate seemed obligatory.
The transport system is huge (however mostly still for vehicles). That said, there is a metro system in place for the downtown area and a bus system connecting the major hubs. We used the Metro to head to the Dubai Mall and Burj Kalifa and found out a few interesting things in our travels.
The Metro is largely used by the lower paid workers:
these tend to be mainly South Asian or African
their jobs tend to be more physical in nature
their jobs tend to be more exposed to the elements
These factors combine violently (particularly in an Olfactory sense) especially in combined spaces. As cool, cheap and air conditioned as the Metro is, there is another price that needs to be paid.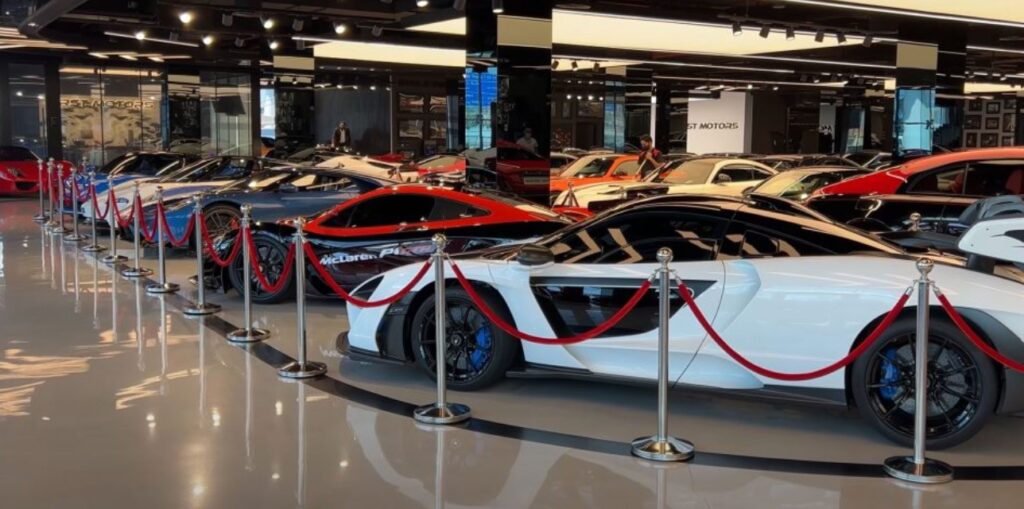 The fun thing about the metro is that you go past the car yard section of town. So from perched high on your train you get to look down on more supercars than you can count as you whizz past.
But in the grand scheme of things, Dubai is a city of roads, traffic jams and skyscrapers.
The real estate boom has led to the construction of some of the tallest skyscrapers and the largest building projects in the world. Some of these include: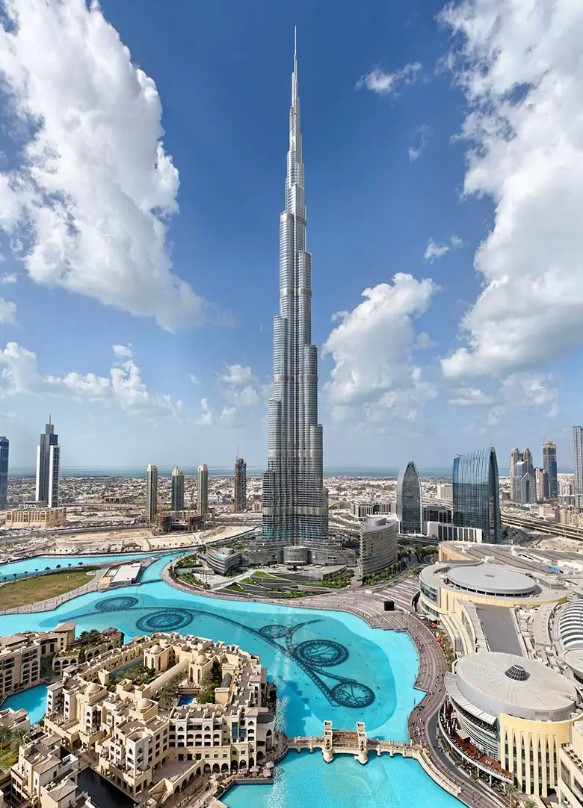 But of course, the big show in town is the Burj Khalifa. This is the worlds tallest building. It is an 830m-tall (163 storey) skyscraper that dominates a skyline that is filled with skyscrapers.
According to Guinness World Records. It takes 2,909 stairs to get to level 160, and ladders are used for the last three floors
We did get a recommendation (thanks KAT) to have the afternoon tea on the 152nd floor of the Burj Khalifa. He did warn that it was expensive, so we looked into it. For Jill and I to have tea and tiny cakes with a window seat towards the top of the Burj Khalifa would have set us back $571 Australian. We passed.
At the bottom of the building is the Dubai Fountain. This is the world's tallest performing fountain. At around 275 meters long the fountain sits on a lake of 30 acres (Burj Lake) and at the appropriate times it performs to a selection of different melodies (from classical to contemporary Arabic and world music). The fountain has five circles (of varying sizes), two arcs (with powerful water nozzles), over 6,600 lights and 25 colour projectors. When operational, the fountain has over 80,000 litres of water in the air at any given moment.
The fountain starts going off at 6 pm and goes off at 30-minute intervals from then through until around 11 pm.
Once the sun goes down the Burj Khalifa chimes in on the 15-minute mark with a bit of a light show of its own just to add to the spectacle. As I'm sure you can imagine, this place is a favourite for the Instagram crowd.
The Burj Al Arab is the world's only 7-star hotel. It has been built on its own artificial island off the coast.
Interestingly, the cheaper room prices start at a little over $220 a night.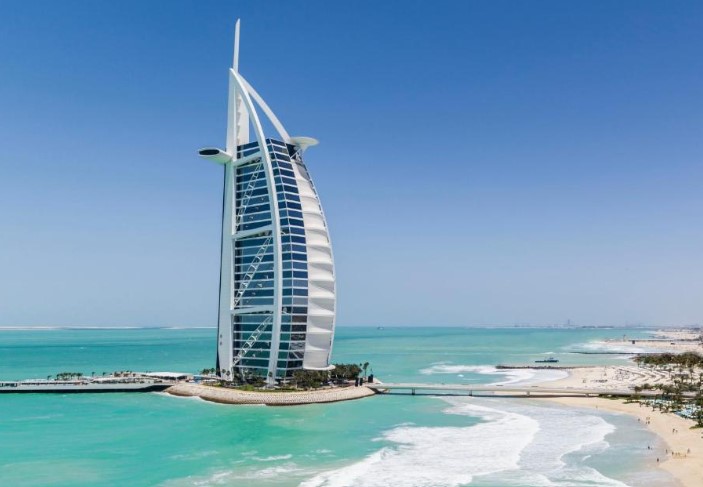 But on closer inspection, the price to simply have a tour and look around (when not staying there) started at over $100 Aussie a head ($170 with a glass of bubbles) and there was an option to have a cappuccino with gold sprinkled on it (cos you need that). Needless to say 7 star luxury does not gel with our backpacker budget and we did not make it here. We did see it several times (through the smog) as we travelled around, but did not enter the building itself.
The beach area is nice, and importantly it is free. Unlike Europe, there was no exorbitant prices for daybeds, no obscene pricing for food and drinks just an accessible outdoor space for people to enjoy. And the vast majority of the people who were there enjoying the beach were Russian. In fact the majority of the people at our hotel, on the streets, and in the restaurants were all Russian. Clearly, there has been a mass exodus of people fleeing the war and setting up camp in Dubai.
I must admit the camel rides up and down the beach did throw us a little. One thing that stood out was Ain Dubai (a big Ferris Wheel thing). It joined a bunch of cities with such structures but being Dubai it had to be bigger than all that had gone before it. Opened in 2021, it operated for 5 months before it was closed for enhancement work. It has been closed ever since (no real explanation).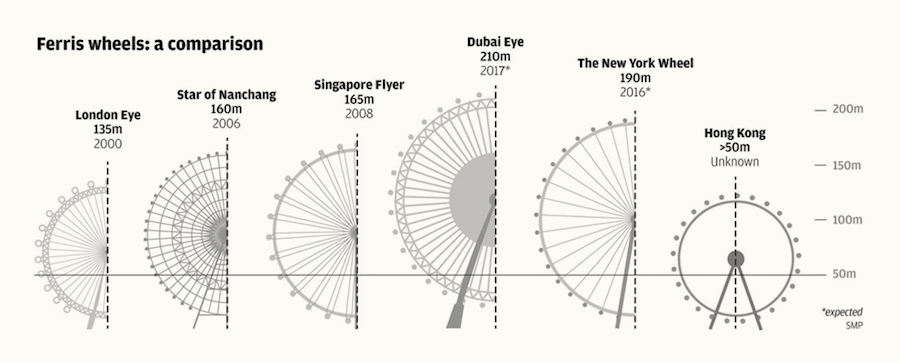 The Dubai Mall is the world's largest shopping mall, complete with indoor go karts, cinemas, Olympic sized ice skating rink, Aquarium & Underwater Zoo, trampolining, haunted house, a 150 million year old dinosaur skeleton, and even the National Opera House. Oh there is a shop or two in there too (more than 1200 actually). But my favourite bit of all was the air conditioning.
The Museum of the Future is a stunning building that we flew past on the metro. The museum aims to give an insight as to some possible futures based on imagination, innovation and progress, thereby offering visitors a "glimpse into the limitless possibilities that lie ahead".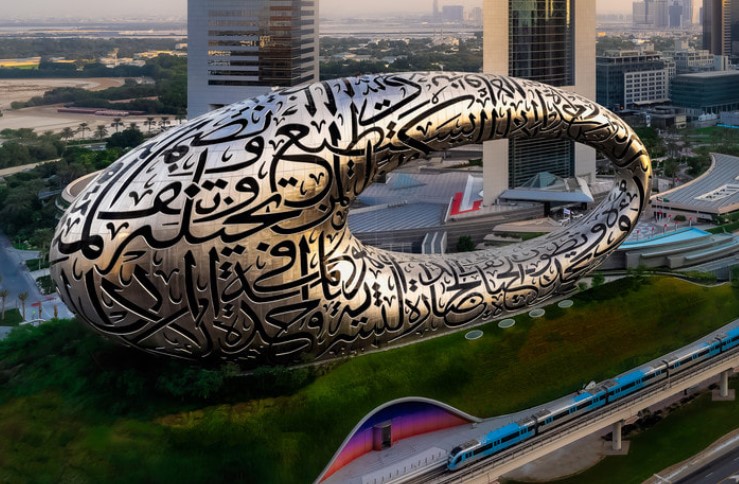 We read the reviews and while the building looked awesome, the experience allegedly fell short, so we passed.
After catching up with Dave and Emma we tried to hop the Metro back to our hotel, but at 10:30 it was too late. The metro had shut down and been locked up. The place was full and bodies were everywhere, but the only cheap transport option had been removed. So we hopped a car to take us back. This blew our price out dramatically and more importantly put us in contact with dodgy transport drivers and shonks. The metro ride was 8 AED each, a ride share would have been 70 AED and the shonk that we got tried to charge us 150 AED. After some choice words (form both Jill and I) he got 100 (mainly because I only had 50's and he was not going to give any change).
Transport operators, the world over, are typically terrible and are the source of the most rip-offs, and scams of tourists. Having to deal with these has been one of our biggest frustrations and has consistently left us with a sour taste in our mouths. This sort of thing has dramatically tainted our overall views of several cities and countries and is a big factor in whether or not we would ever return.
Look Dubai was not for us, but we did still see the attraction that it could hold. For the same money that you would pay for accommodation (modest) in Europe, you get lavish accommodation here. The beaches are better and the shopping is as good if not better. The sights are amazing (if you like modern urban landscapes) and the attractions are world class.
From a barren desert in the early 1990's the city has come an incredibly long way and is unrecognisable. It is a perfect example of what can be achieved if you turn your mind (and open your wallet) to something. So the real question is what could seriously be next for a city like Dubai.
Obviously, it is the Downtown Circle.
The Downtown Circle project will seek to establish " a sustainable and self-sufficient vertical urbanism." I have no idea what that means but what is proposed is to build a 5-storey high, 550 meter tall mega structure to encircle the Burj Kalifa. The circle will have a three-kilometre circumference and will be composed of two main rings, which are held together by a continuous green belt – the "Skypark".
The Skypark has been designed to act as a green lung, seeking to replenish the air with oxygen and intends to incorporate a series of activities and research centres. A fleet of suspended peripheral tram-like pods (hanging underneath) have been designed to transport passengers from one node to another in the Downtown circle. The projection is that this will come to pass by around 2040.
So in a very Las Vegas fake kind of way, Dubai has it all. I certainly don't want to bag the place because it has a lot going for it. Unfortunately, those things (like super shopping malls) are not the sort of things that Jill and I tend to want to seek out.