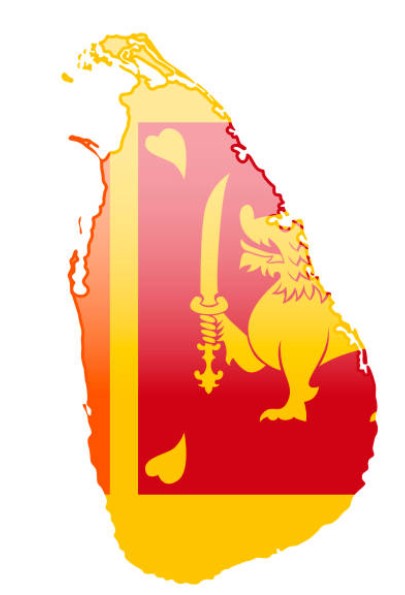 This was a break stop to avoid the killer long flight back to Australia, while we meandered back home.
For long-time readers, you may recall that back in 2013 we went to Guilin in China and met an amazing Sri Lankan couple (Ruwan and Dilani). While chatting they asked if we were planning to visit Sri Lanka (which we were not). So we rejigged our plans, visited Sri Lanka and loved it.
So this stopover was all about catching up with them and breaking an otherwise long flight to get back home.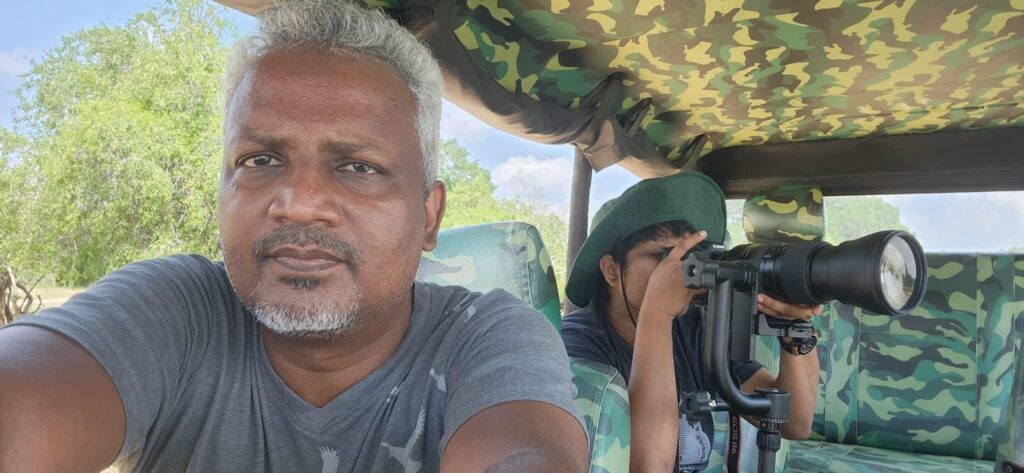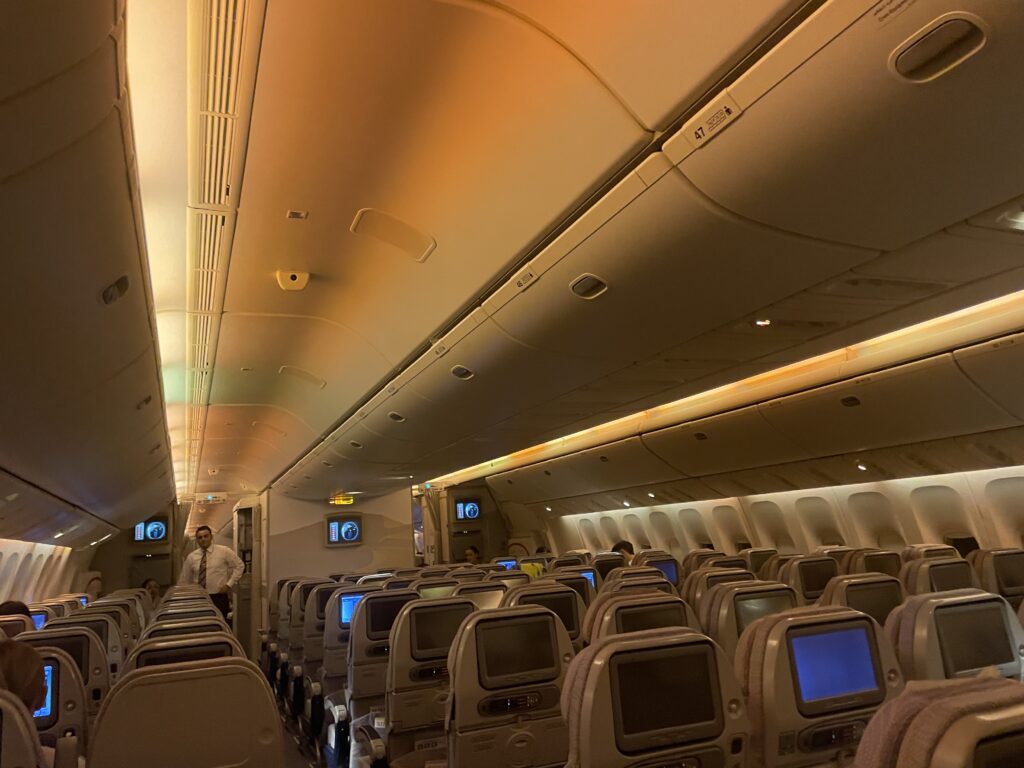 But first, a quick note about our almost empty flight over to Sri Lanka from Dubai. We have never been on such an empty flight. Business and Premium economy were pretty full, but for us plebs at the back of the plane, we had entire rows to ourselves.
After arriving we were collected our bags and made it through customs and immigration in record time and then had to contest with the taxi drivers and touts. As we arrived late we stayed at an area called Negombo. This is a nice beach spot relatively close to the airport. We planned to stay with Ruwan on the trip but due to the late arrival the first night was here.
After ridiculous offers of cab fares to our accommodation (4500 rupees) we fought a patchy internet connection to order a car from the Pickme app which suggested that 2000 was more reasonable. After the Wi-Fi connection dropped in and out (losing our ride each time) we eventually got ourselves a tuk tuk. This meant we needed to walk (past the Buddha statue), out to the road where we got met by our man.
Negombo
From here a quick ride, with a lovely breeze, over to the seaside town just north of Colombo. Our accommodation was amazing, and less than half the price of what we had been paying in all of our travels through Europe and the Middle East.
The next morning we were up for a walk along the beach before Ruwan came to pick us up for our journey to begin properly. Our first adventure was on the hunt for mud crabs. Jill's Uncle Terry had posted to try them on my Facebook and Ruwan had seen this so now we were on a mission. After a false start or two (through the local fish markets etc.), we found the local mud crab exporter and shipper at the local piggery (an obvious place to find it). The big thing about the mudcrabs was that in Australia the going rate sits at around $50-60 a kilo and in Sri Lanka it is more like $20.
Colombo
Well, Colombo has certainly grown up a lot since our last visit. When we arrived a decade ago, there were virtually no buildings over about 5 storeys high. During the past decade, China has funded the construction of massive infrastructure projects in Sri Lanka. There are numerous high-rises all around that were not here a decade ago. The most obvious of these is the Lotus Tower.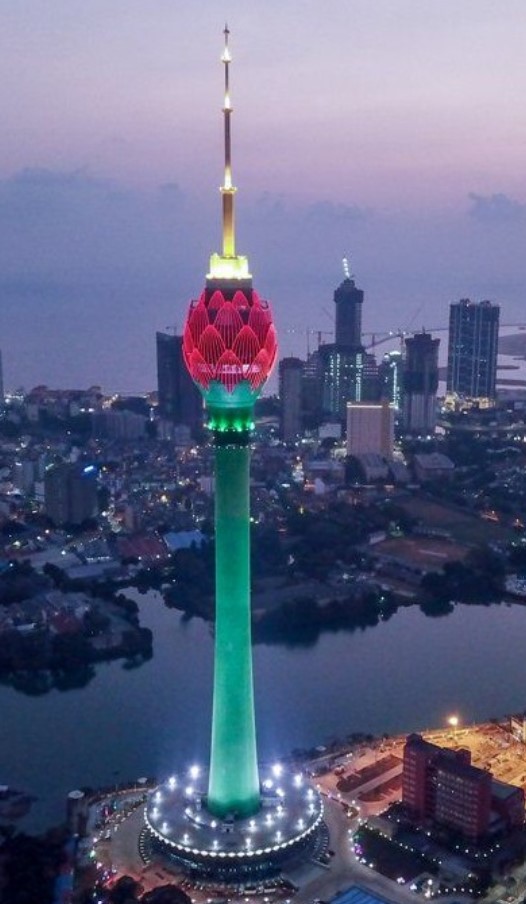 The lotus tower "Nelum Kuluna" is the tallest skyscraper in the country.
It stands 351.5m tall and cost US $113 million to build. The official blurb tells us that the lotus symbolises purity and represents the country's flourishing development.
But the lotus is also the symbol of the political party that the President at the time (Mahinda Rajapaksa) hailed from.
Added to the above, the Chinese investment has been spent on building are some massive white elephants (notably the Mattala Rajapaksa International Airport and Port City). These developments have sent Sri Lanka into a debt crisis. The lunacy of these investments has been publicly described as (I love this one) "monuments to fiscal profligacy".
Mattala Rajapaksa International Airport (MRIA) was assigned 2000 hectares of land with the funding to build it ($190 million) coming from the Chinese government in the form of high interest development loans.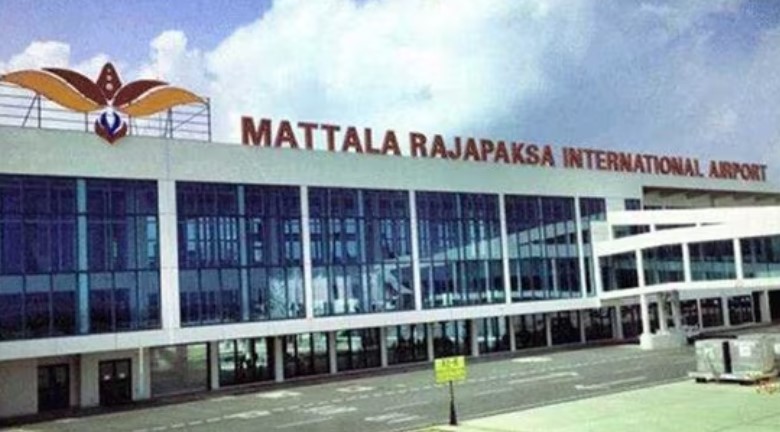 Built during the presidency of Mahinda Rajapaksa the location of the airport just happened to coincide with where he lived. He also built the Hambantota International Port there (the port has been leased to China on a 99 year lease) and tried to get an international cricket stadium built there too.
The first stage of the airport was completed with projections to serve one million passengers and handle 45,000 metric tonnes of air cargo each year. It opened in 2013 however, due to low demand, all of the international airlines left by 2018. On average now 4 flights per month land in MRIA.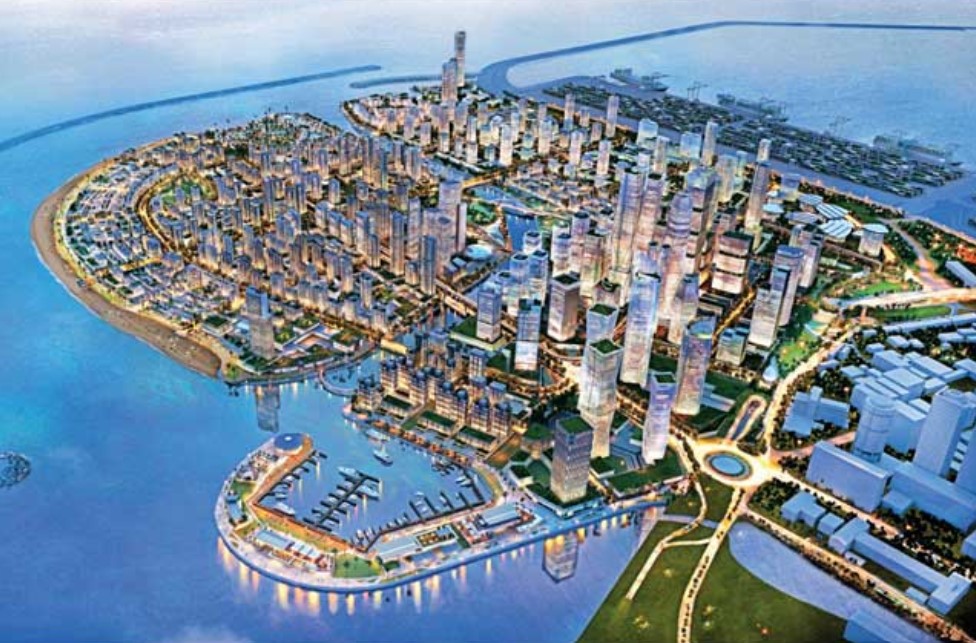 Port City was next in line. It is a 269-hectare ocean reclamation development funded by Chinese direct foreign investment however the project was seen by many to be merely a Chinese debt trap.
When completed, Port City Colombo will have over 5.6 million square meters of built space, boasting the best in design and standards. The development will comprise of 5 different precincts including a Financial District, Central Park Living, Island Living, Marina and the International Island. The loan agreement allowed two Chinese companies to jointly operate the terminal and take a 65% stake in the port for the next 35 years.
When the land was being reclaimed, plane loads of workers were flown in from China, they were housed and fed in on-site accommodation. The only real benefit that was derived for the local people was that the rock and gravel used for the fill were sourced from Sri Lanka.
In addition to the projects above the former President also sought Chinese investment in the financing and construction of ports, power plants, roads and mines. According to Wiki, Sri Lanka's foreign debt increased US$11.3 billion in 2005 to $56.3 billion in 2020. Foreign debt in 2019 was about 42% of GDP but by 2021 it rose to 119% due to these loans. Sri Lanka has defaulted on these and is unable to make even interest payments on loans. In 2015 surrounded by screams of alleged cronyism and corruption, he lost a bid for a third term. 
The mismanagement of Sri Lanka has led to some terrible things being done to its people. We were told of the on the ground impacts that followed from defaulting on the international debts. No vehicle (or any other large imported item) has been brought into the country for the last 3 years, petrol was scarce for months at a time and the community has been saddled with high taxation to pay back the debts that were incurred. In the meantime, the projects that incurred the debts were folly and sit as white elephants.
Anyway, the sad realities dealt with, let's talk about travelling and exploring this amazing country.
Ruwan had been monitoring our travels up until now and had been observing the sorts of things that we had been doing and seeing. Being the cracking fella that he is, he tried to organise things that were totally different for us to do, while we were in Sri Lanka. The first thing on the agenda was a 5am wakeup so that we could get on the road and head to the Elephant Transit Centre.
The Elephant Transit Centre is a wildlife protection facility in the Udawalawe National Park. On our first trip, we had visited the Pinnawala Elephant Orphanage which took care of orphaned elephants. This one was similar but the focus here was about getting them back into the wild. Because of this, there was much less human interaction and, for the most part, all of the elephants were babies.
We missed the morning session and had a few hours to kill so we hung with Ruwan's handyman (whose sister worked at the centre). We went to his home, walked through the countryside and got to see a taste of real Sri Lankan life. This included the sheer joy that he could share this experience with a couple of foreigners. The hospitality was overwhelming, including the fact that they fed us. The meal was something a little out of left field as we sat by the riverbank and ate an incredibly hot (spicy) porcupine curry.
Yep, you read that right. Porcupine, yet another animal to add to the weird animals that we have eaten list.
The thing that Ruwan has done since we first met was to turn himself into a superstar photographer. Being stuck at home through COVID has prompted him to amuse himself so he has bought a flash camera and a monster lens and has been taking some absolutely amazing wildlife shots. As you can see from his photos below, he has some serious skill and my little phone camera really doesn't cut it.
I put him in a headlock (metaphorically) and got some photography lessons from him, so my photos may improve. Anyway, the next thing on the list of things that he had organised for us was a safari at the Yala National Park. Moving on from the elephant centre we kept going to our accommodation for the night, Ruwan had us booked into a safari lodge. This involved a really dodgy night roughing it in a tent in the middle of the jungle. I posted the photos on Facebook and everyone questioned my description suggesting that it was more "Glamping" than roughing it. Anyway you can make up your own mind on just how tough we did it.
As you can see from the photos above it was a hardship roughing it in the jungle at a safari lodge (Mahoora).
Yala National Park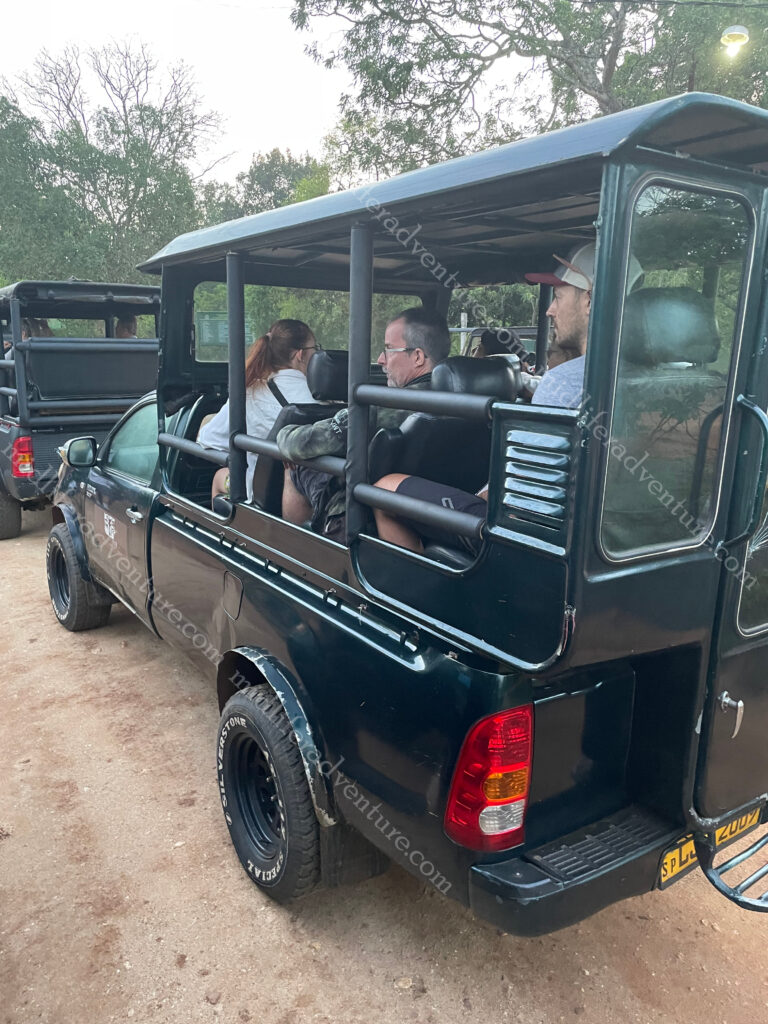 The next morning it was up at 5 am where we met our Safari Jeep and headed out for the first entry into the Yala National Park.
Yala was designated a wildlife sanctuary in 1900 and became a national park in 1938.
Ironically, the park was initially used as a hunting ground for the elite under British rule.
Yala is made up of 130,000 hectares of land which combines a strict nature reserve with a national park. It is divided into 5 blocks (2 of which are accessible to the public) consisting of light forests, scrubs, grasslands, tanks and lagoons. It is home to 44 varieties of mammal and 215 bird species.
Among its more famous residents are the world's biggest concentration of leopards, elephants, sloth bears, sambars, jackals, spotted deer, peacocks, and crocodiles. Pretty much all of which we got to see (with the exception of the sloth bears).
Of particular interest was an up close and personal experience with a bull elephant. While perched high in our jeep the elephant came out of the jungle and took exception to our presence. So it walked over to the jeep and head butted the car trying to push it over, while we were sitting in the back of it.
While zipping along we got word of a leopard, and turned and chased it. We got lucky and caught the last minute before it disappeared back into the jungle. In case you were wondering…it was a boy leopard.
Tourist Prices
This was a bugbear for me last time we were here in Sri Lanka and it remains one today. Almost everywhere you go in the world, there are two pricing scales, one for the locals and one for the tourists. This we are used to and have come to expect and in some cases even embraced. But Sri Lanka takes this concept too far.
They did last time and continue to do so to this day. Originally the open gouging of tourists was confined to the tourist sights run by the government but now this has grown to be common practice throughout the tourism industry in Sri Lanka.
I guess that this was a little more evident this time around as we were travelling with locals everywhere we went. On our original visit I was complaining that our Sigiriya trip would cost a local 40 rupees to get in but would cost us 3900 and Polonnaruwa was 50 for a local and 3250 for the foreigner.
So our accommodation cost was organised by Ruwan (he got it for 7,000 but the cheapest we could do online was 12,000) this translates to the difference between $35 and $60 for the night's accommodation. We had the BBQ dinner at the safari lodge and the cost for Ruwan and Dilani was 700 rupees ($3.50) while the price for us was $US22 (7,100 rupees). We sat at the same table and ate the same food. Below is a list of some of these differences that you may be subjected to.
Item
Local
Price
Foreigner
Price
Sigiriya
100
9,700
Polonnaruwa
free
8,100
Lotus Tower
500
6,500
Yala National Park
970
14,000
Udawalawe National Park
150
9500
Elephant Transit Centre
115
1900
Sri Lankan Food
Sri Lankan food is amazing and made even better because Dilani was a spectacularly good cook. The range and variety of local foods was fantastic (albeit that she toned the spiciness level down for Jill). Mudcrabs, prawns, dahl, veggies, curries, string hoppers, accompaniments. Really how could anybody ever complain at feasting on a wide variety of yummy food every night.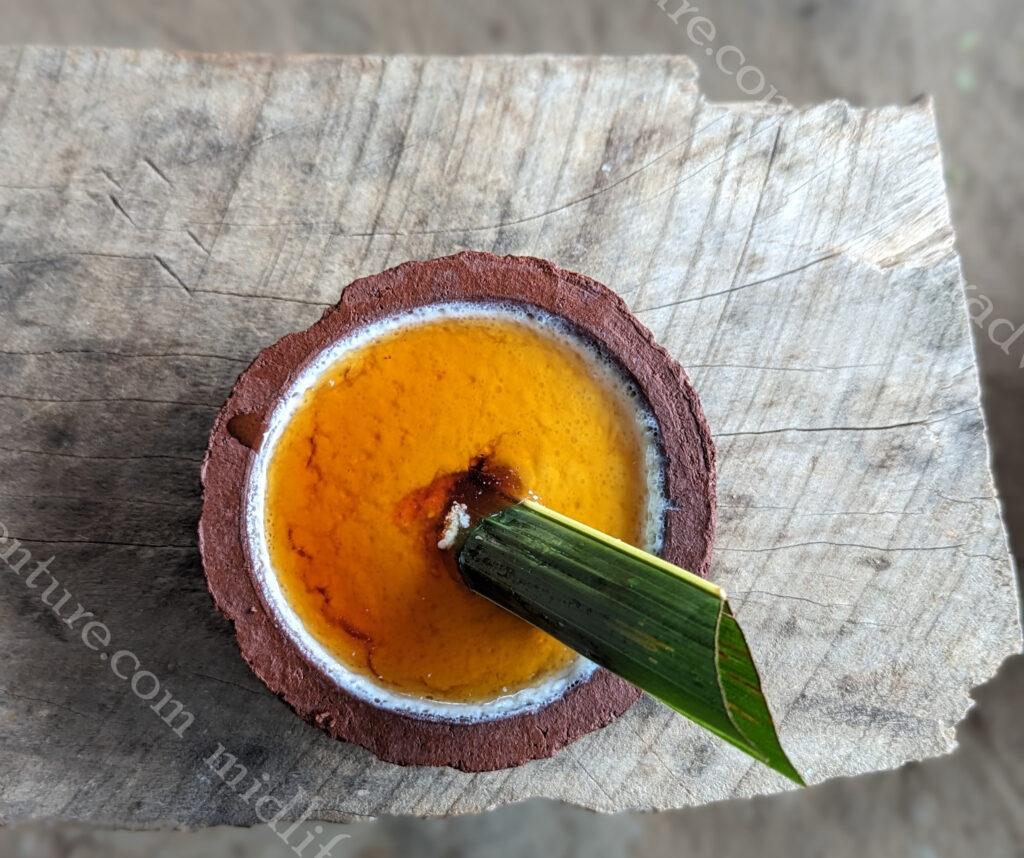 The last stop that we made was at a local stall on the side of the road where we got fresh curds with treacle (or local honey in our case). Eaten in a clay pot with a banana leaf shard as our spoon.
Once again we have visited and loved Sri Lanka. We are already talking about when we can come back. Add to that the proximity to the Maldives, this may become a regular holiday run.