Greek Food
As this is our last port of call in Greece (for this trip) I thought that I should cover off on the food options that we have been served up during our month in Greece. The food here has surprised us greatly. We have had a pretty fair exposure to Greek food while living in Australia and it has been fantastic with a wide range and variety. While the food we have been given has been excellent, for the most part, the variety has been sorely lacking. It has been a world of meat and carbs and not a vegetable in sight.
Don't get me wrong here, most of my life has been spent consuming meat and carbs, but this was even a bit much for me. Almost every meal is meat and chips. You can buy a gyros (a Greek kebab with chips inside) for about 3 euro and it will be delicious. But if you want to buy a salad it will cost you 250-400% more and you will get some lettuce leaves with balsamic vinegar on them.
The traditional Greek salad (Horiatiki) that we are used to back home, almost has not been seen (maybe it is a seasonal thing), and when it is seen the Feta is usually intact in a huge block. The chef's salad is virtually identical everywhere, lettuce, boiled eggs, 2 or 3 cherry tomatoes, hard cheese and mayonnaise.
The meat plates are awesome, about 3-5 different meats charred and served. Add to this the Souvlaki Something very special happens when meat is introduced to flame. the Greeks have discovered and exploited this perfectly. But it will be served on a bed of chips (maybe with some pita bread too) and very little else. Jill has been craving vegetables and fruit as they have virtually been missing this whole month.
The seafood has been lacking greatly (my sense is that the Mediterranean is all but fished out) and the fish and octopus were either hard to find or brutally expensive. We did get to have the usual suspects (octopus, calamari, anchovies, prawns and sardines) during our time but not with anywhere near the ease or frequency that either of us imagined.
Eggplant– I have had some great eggplant over the years and I rate the Italian versions very highly, but the Greeks have taken eggplant to a whole other level. Whether the grilled eggplant or made into the Moussaka, these guys know how to cook an eggplant.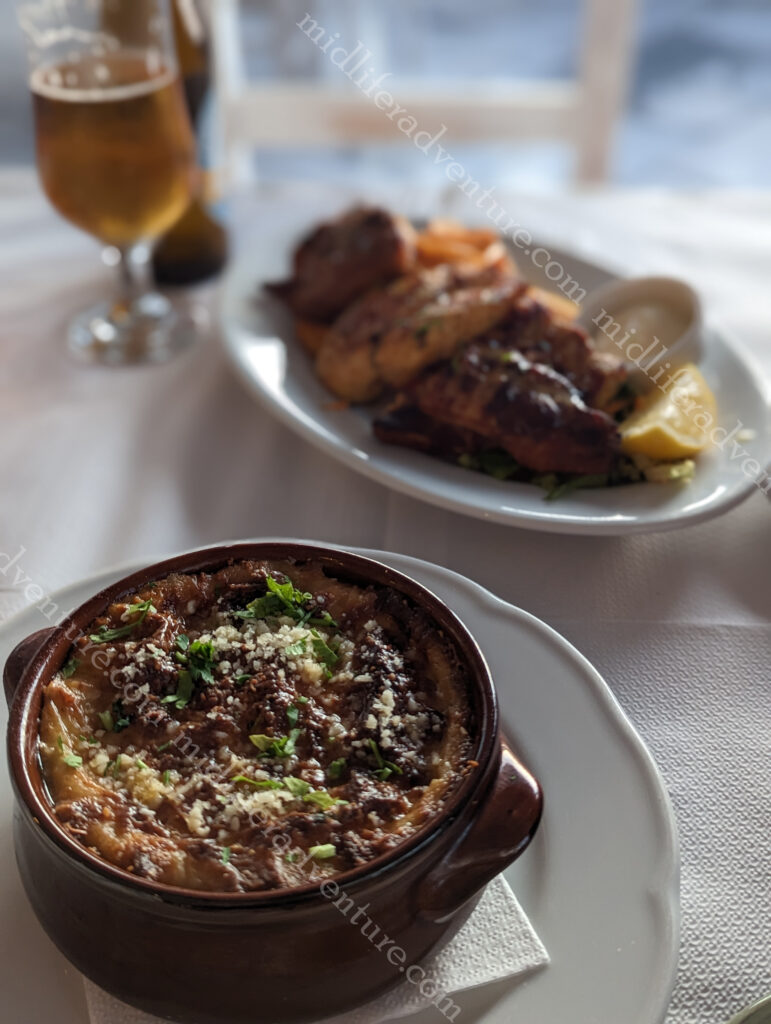 Moussaka we have had so many times, but having it here is so much better than back at home. The layers of potato and eggplant at the bottom, cooked minced meat (beef or lamb) in the middle, and béchamel cream on top. How can you go wrong.
The Gemistá is the stuffed capsicum that were also really good.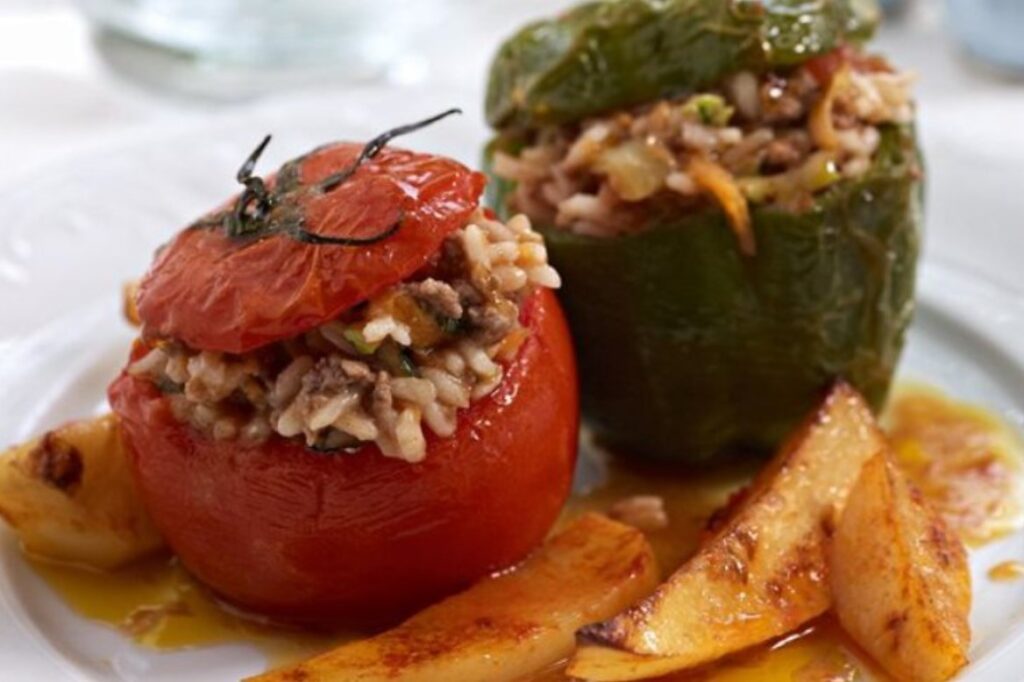 Greek Pies – come in a range of versions, both sweet and savoury and based on the ones we tried they are all pretty good. I did find that the Spanakópita (filo with feta and spinach) came in sizes that were too big. By the time you had finished one, you were totally over the taste. The Tirópita was the local cheese mix version. The Bougatsa very quickly became my favourite, it is a sweet pie, stuffed with buttery custard cream and sprinkled with cinnamon and icing sugar. Best eaten straight from the bakery, warm out of the oven. There is a very similar galaktoboureko but this filo is also soaked in honey.
Kotopoulo sto fourno me patates was a random stumble across that we found in Santorini, it is basically a chicken and vegetable roast/stew thing. Jill loved it.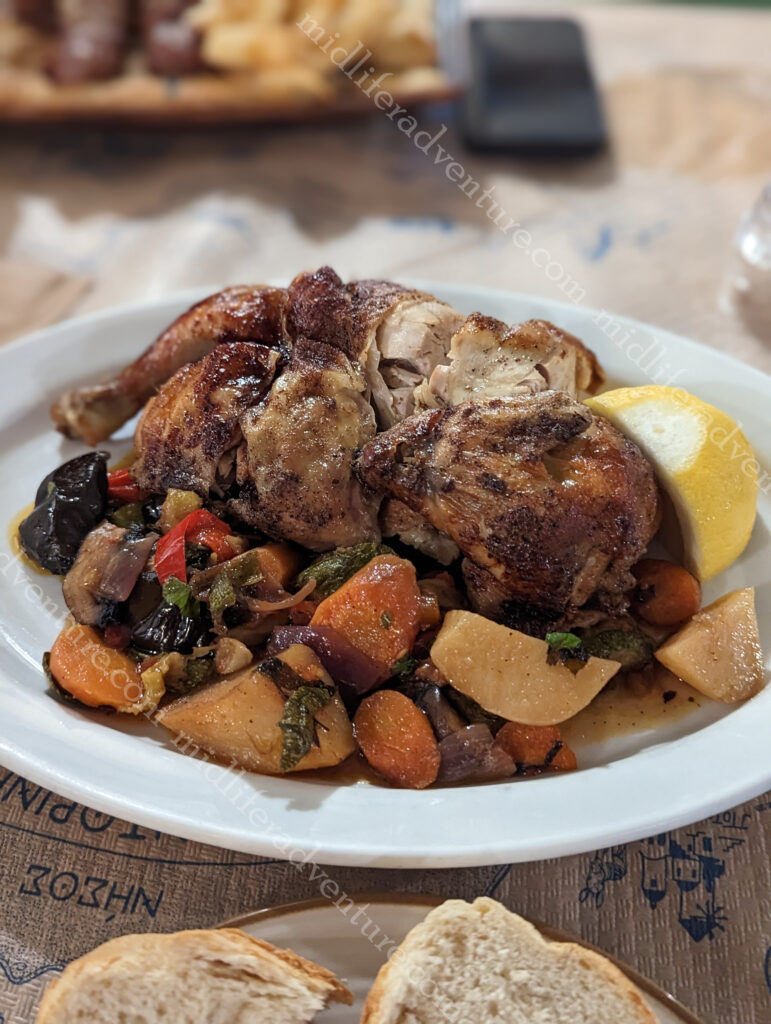 On the random finds section we have a tendency to spray a menu and order anything that looks good, especially if we haven't had it before. This leaves us eating a range of things that are especially local and probably may not be seen anywhere else. Some of these on this foray into Greece have included: stuffed mushrooms, goat stews, zucchini, and even pastas.
Desserts
Baklava is the obvious dessert and one thing that Greece is famous for. The filo (phyllo) pastry, butter, chopped walnuts or pistachios, and a rich sugary syrup is universally known. I find this too sweet for my tastes but Jill sampled them and did not object. Loukoumádes are a form of Greek doughnut that are typically covered in honey but the place we found in Crete served them with fresh fruit and ice cream with a chocolate sauce and it was amazing. The Bougatsa and galaktoboureko fit the pie and dessert categories.
Revani is a syrup-soaked cake made with semolina and yoghurt, known for its lemony taste. Portokalopita is pretty similar but the lemon is replaced with oranges and cinnamon and is similarly syrup-drenched. And the cop out option is Greek yoghurt and honey, which is still pretty good. The important thing to remember is that even if you don't order dessert, chances are that you will be served one for free.
And the winner is…Greek bakeries.
I love them fully. The quality and range of items (both sweet and savoury) that can be found at Greek bakeries is virtually impossible to fathom or match.
Greek Beer
Much like the food I thought I would give a quick overview of the Greek beers. The beers on offer are predominantly local with a few imports (mostly German or Dutch) thrown into the mix as well. They for the most part are lagers or pilsners and they have all been very drinkable and well worth the effort. The best bit is that most of them come in decent sized (500ml) bottles. The usual suspects include: Alpha, Fix, Hellas, Mamos, Mythos, Nisos, and Vergina.
In addition to the usual suspects, each island tends to have their own brew and the concept of microbreweries is kicking in. I tried the individual island brews on two of the islands and they did not appeal to my tastes at all. As for microbreweries, I have never been a fan. In my view, this is the realm of bearded hipsters with man buns, who busy themselves finding new and unusual ways to ruin beer.
The other thing that you need to know is, that after a meal (every meal), the owner will deliver you a glass of either ouzo or raki (Tsikoudia). It will be free, it will be strong and it will be very rude to turn it down (even if you think it tastes like armpits).
Smile, say thankyou (efcharisto) and move on.