Upon arrival in Hanoi, we headed straight to the centre of Hanoi's old quarter to our accommodation. Last time we stayed in the French quarter and had to walk to get to the restaurants and attractions. This time we put ourselves in the centre of it all. And the centre was exactly where we were. We were surrounded by the hustle and bustle that was Hanoi and it was fantastic.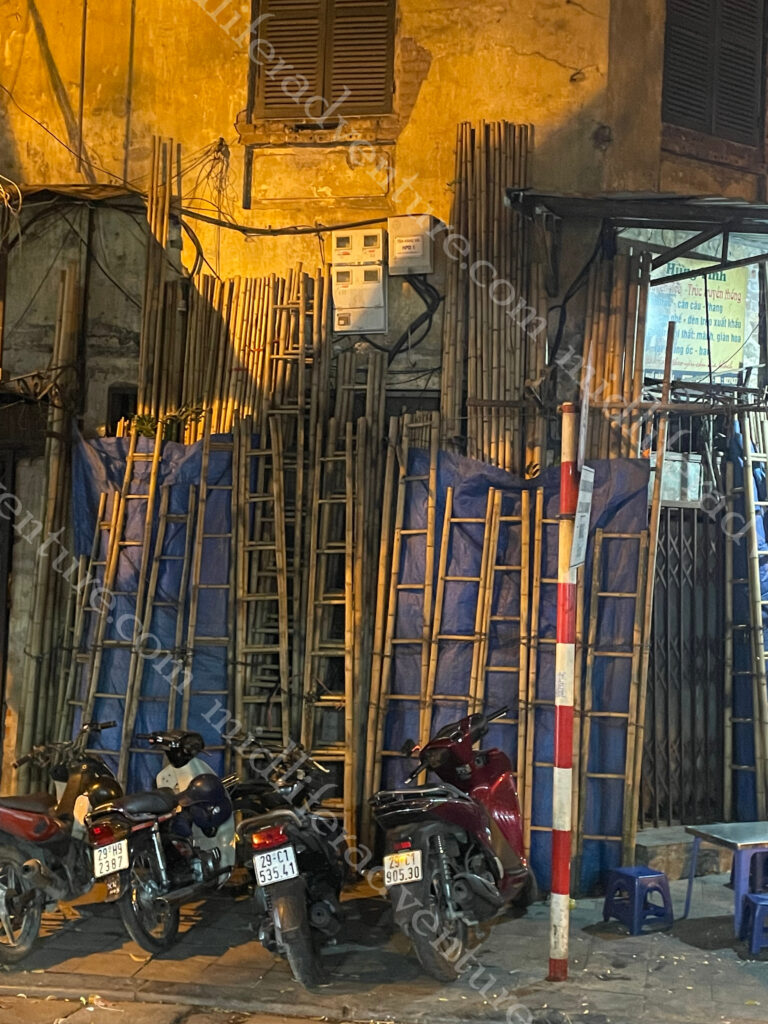 We wandered the streets and checked out all that was to see in old town and found the expected and unexpected hidden gems. Surprisingly we were able to find bamboo ladder street. This was not the actual name but was a place that we happened upon last time around, and had great bia hoi and food for very little money. I can report that very little has changed, the food is good and the beer is still really cheap.
After a few days of wandering Hanoi, we were joined by one of my oldest and dearest friends, Nadim. Now, Nadim (Dim) and I first met back in primary school and have been through plenty together, including years of rugby. In fact, my first solo international adventure was with Dim, back in 1996 where we visited West Coast USA (staying with his cousin), then on to Europe when he took off to Lebanon and I went on a Contiki tour before meeting up again in London.
Upon his arrival we caught up and were kindly offered accommodation at his sister's (Aline) place who was on a work placement with her family (Tom and Ian). An offer that was gratefully accepted and resulted in us all in the one place and able to plan our days and activities more easily.
The first day out saw us hitting the usual tourist haunts, starting with the palace/temple (Phu Tay Ho/Kim Nguu) on Westlake around the corner from our new home. The palace was built around the 17th century and was dedicated to Princess Lieu Hanh. According to legend she is the second daughter of the Jade Emperor and is one of the four immortals. She is known as the "Mother of Heaven – Mother of all peoples".
Next was off to Hỏa Lò Prison which is more commonly known as the Hanoi Hilton. It was originally used by the French colonists in the late 1800's to house those Vietnamese that were agitating for independence and later as a place for American POWs.
Next would be off to the Imperial Citadel of Thăng Long but along the way you need to walk past Train Street and the Lenin Statue.
In the centre of Hanoi stands a 5.2 metre statue of Vladimir Lenin, a gift from the Soviet Union in the 1980s, this is the only statue of the Soviet dictator in Southeast Asia.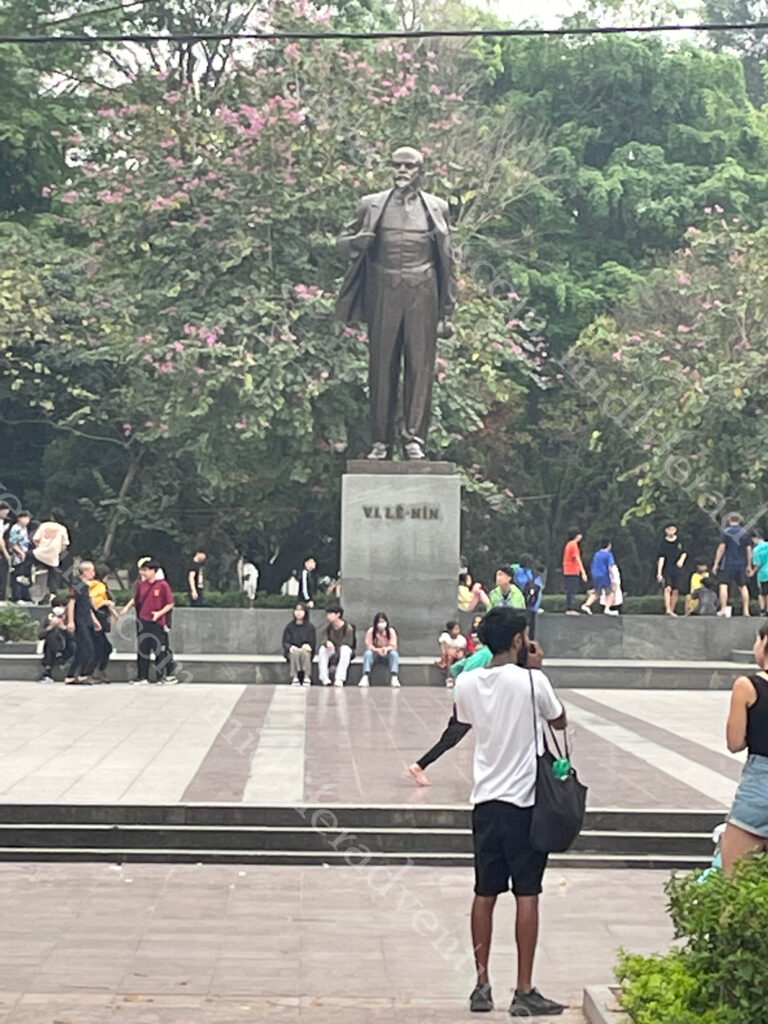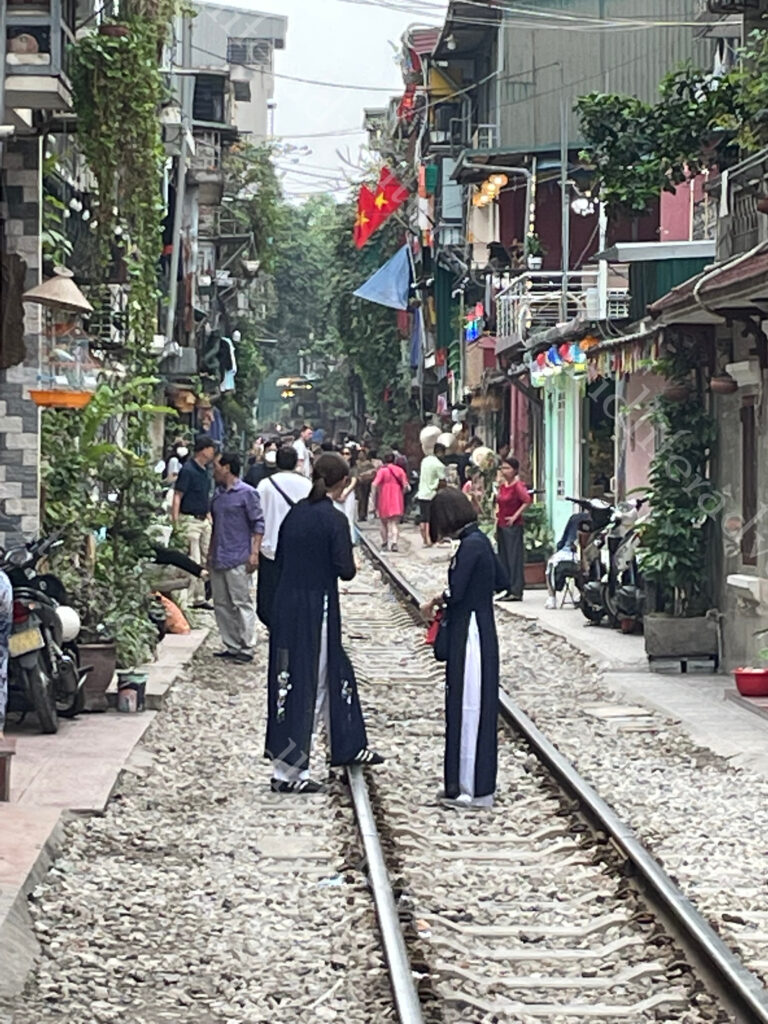 Hanoi Train Street is a tiny narrow street surrounded by high narrow houses packed closely together where the backyards are the railway and a train passes a few times each day. The tourist bit is only about 100 m long and covers an area where the street is at its narrowest. The train passes literally a metre away from the houses.
Train Street is guarded by corrupt rail guards that will only let tourists in if they agree to buy coffee or beer at one of the restaurants inside (where they get kickbacks). We refused as I have real issues with corrupt officials and being party to their actions. But a couple of times a day the train comes through within a very short distance (centimeters) of the houses and shops that are on the street. Needless to say, this creates much scurrying and putting of things away, and then life goes back to normal…until next time.
The Imperial Citadel of Thăng Long is a complex of historic buildings that were originally built in 1010 and was expanded by subsequent dynasties. Our arrival coincided with the graduation of a large number of students. There were hundreds of children of varying ages dressed in ceremonial outfits and all looking to get photographs at the citadel. We quickly became local celebrities (particularly me this time) shaking hands with, congratulating and posing for photos with a heap of graduating students.
The next day, Dim's sister Aline had organised a motorbike lesson on the streets of Hanoi. Now lets get serious here. Hanoi traffic is atrocious, in fact, it is for most of Vietnam, so much so that jokes and t-shirts are made bemoaning the quality of the driving.
The USA travel advisory writes this – Traffic in Vietnam is chaotic. Traffic accidents occur frequently. The most common victims are motorbike riders and pedestrians. At least 30 people die each day from transportation-related injuries and many more are injured, often with traumatic head injuries. Traffic accident injuries are the leading cause of death, severe injury, and emergency evacuation of foreigners in Vietnam. Traffic accidents, including those involving a pedestrian and a motorized vehicle, are the single greatest health and safety risk you will face in Vietnam.
So bearing this in mind…we got on some motorcycles and headed off into the chaos. Well most of us did, Jill decided to play it safe and go as a pillion. We started slow in the suburbs and built up to some light traffic as we headed to the Tran Quoc Pagoda is the oldest pagoda in the city constructed in the sixth century the temple was relocated in 1615 to Hồ Tây (West Lake) where it is now situated.
A slight drama here as one of the group had a minor mishap (not me) resulting in a bruised ego, some shaken nerves and a tiny scratch to a BMW. From here we continued to some heavier traffic and on to a local lunch. Closely followed by a trip to old town amid the real chaos to get a taste of our first egg coffee (more about those later). After that peak hour was hitting, schools were breaking up and we were getting on our bikes and heading back to our starting point.
Lets just say that riding motorbikes in the central part of major Vietnamese cities is challenging. There is a lot going on at all times and it is not for the faint hearted.
Checkbox ticked…did that.
The next day was back on the tourist trail with a trip to the Ho Chi Minh Mausoleum Complex. This is a central tourism area that holds the embalmed body of Ho Chi Minh along with a museum dedicated to him. Included in the complex is the Presidential Palace which was originally built between 1900 and 1906 to house the French governor-general. Ho Chi Minh allegedly refused to live in the palace for symbolic reasons and built a traditional Vietnamese stilt house and carp pond on the grounds. In 1975 his house and the grounds were made into the Presidential Palace Historical Site.
A short walk away is the Vietnamese Museum of Military History. This was an interesting way to spend an afternoon with much to see including some big boys toys to photograph.
On the grounds of the museum also stood the 200 year old Hanoi Flag tower which was built in 1812 as an observation post to the Hanoi Citadel. Unlike many other structures in Hanoi, it was not destroyed during the French invasion (1896-1897) and was continuously used as a military post.
West Lake (Hồ Tây) is the biggest freshwater lake in Hanoi. It is northwest of the city centre and has a shore length of 17 km and is a popular place for recreation with many surrounding gardens, hotels and villas.
Ngoc Sun Temple This sits on a small island in the Hoan Kiem Lake just near old town. It was built in the 19th century in commemoration of Tran Hung Dao, the greatest military commander of the Tran Dynasty.
For the first time in a very long time I made my way to church as we visited the Hanoi cathedral (St Josephs) which is a late 19th century, neo gothic style church. It is the oldest church in Hanoi and still holds services.
One of our greatest finds in Hanoi was a tiny little curry joint that had rotis that were about a meter long and around 40 cm wide. We first saw it on day two and after seeing the incredible roti I had to go there. One Roti and a curry could not be finished by Jill and I together. Once Nadim arrived, we took him after our journey to the Ho Chi Minh Mausoleum and the War Museum. And just before finally leaving we had one last foray. Needless to say we had about 5 different curries over the period and they were all good.
Vietnam air quality is terrible.
We have not seen a blue sky since arriving in Vietnam due to the smog and smoke. A little bit of research will tell you that there are there are over 65 million registered motorcycles in Vietnam, equaling around two-thirds of the population. Official statistics also report that there are around 60 000 deaths each year that are air pollution-related. So I kept digging and found the AQI (air quality index). This is a numerical measure of the quality of the air in cities around the world, with the various scales represented in the image below.

To give some context to this number, at the time of writing I checked each of Australia's Capital cities and every one of them returned a reading of 10 or lower (although there was not one monitoring station in all of Tasmania). As I was in Singapore at the time, I checked there and the number was 30. While we were in Hanoi this number never fell below 115 (reported daily) and at its peak hit 185.
According to official Vietnamese sources the major cause behind air pollution in Hanoi is emissions from transport, industrial production activities at factories, urban construction and the burning of straw after harvests.
What we saw was masses of local burning…EVERYWHERE.
The street sweeping ladies would wander along and sweep up all of the leaves and put them into piles and then into plastic bags throughout the day. As they were finished an area and ready to move on they set light to the plastic bag sending the smoke and toxins into the air. At any point in time there may be 5-10 of these burning on a small street at any one time. And this happens citywide.
Vietnamese Coffee
I added this so that I didn't finish on an air pollution downer. Vietnamese Coffee is famous for a number of reasons. The first is that it is typically a rich and strong brew. Vietnamese robusta coffee tends to have chocolatey and nutty flavor notes, which are a result of robusta having 60% less sugars and fats than arabica coffee. It is tasty and due to a shortage of "real milk" it usually comes with condensed milk, making it super sweet and strong. A real early morning heart starter.
Egg coffee is a Vietnamese nationally acclaimed specialty made of egg yolks, sugar, condensed milk, and robusta coffee. Back in the 1950's, the inventor of egg coffee (Mr. Giang), developed the recipe by replacing milk with egg yolks when milk was scarce.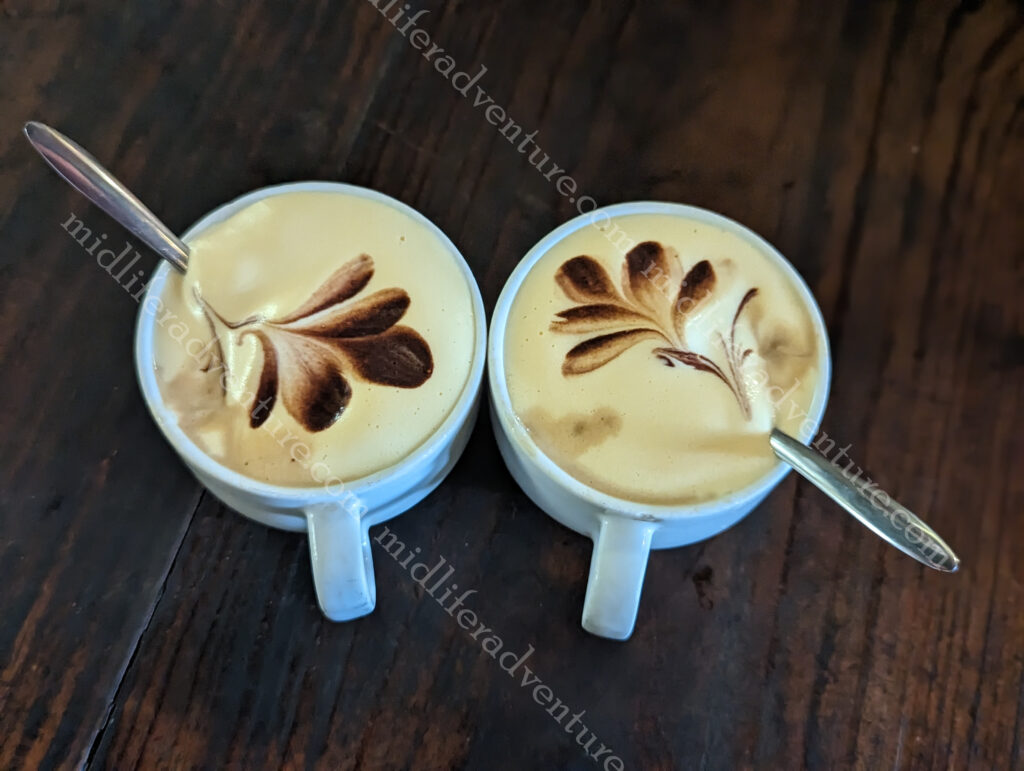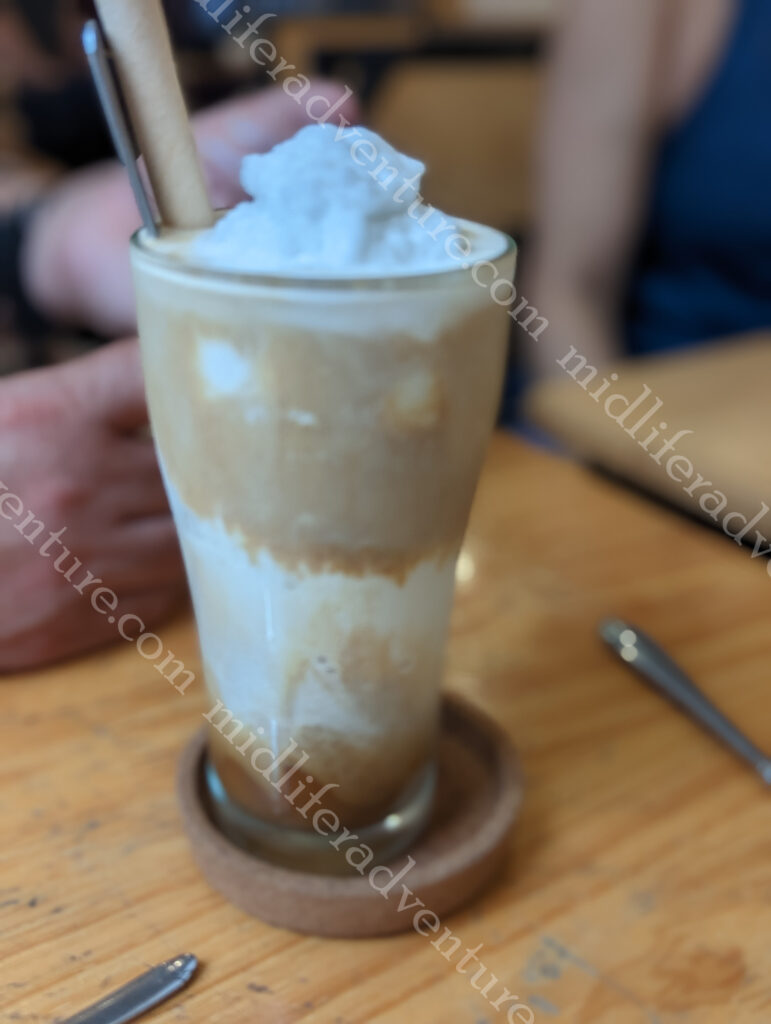 Coconut Coffee – This is served cold and has the equivalent of a sweet coconut slushie on top of the coffee. Coconut cream, condensed milk and ice are blended and the cooled coffee is poured over the top.
Manpering – I found out that Dim was as much of a fan as manpering as I am, haircuts, shave massages, he did the lot. However he did express some concern at my urgings to get a haircut and straight razor shave from a street-side barber, the $3 price tag won out in the end. I did the same a few days later after Dim had gone home, while Jill got a pedicure a few doors down.
This photo was taken on ladder street. It didn't really have a story but we loved it and had to find a way of including it in our running blog. The stresses of life in Vietnam.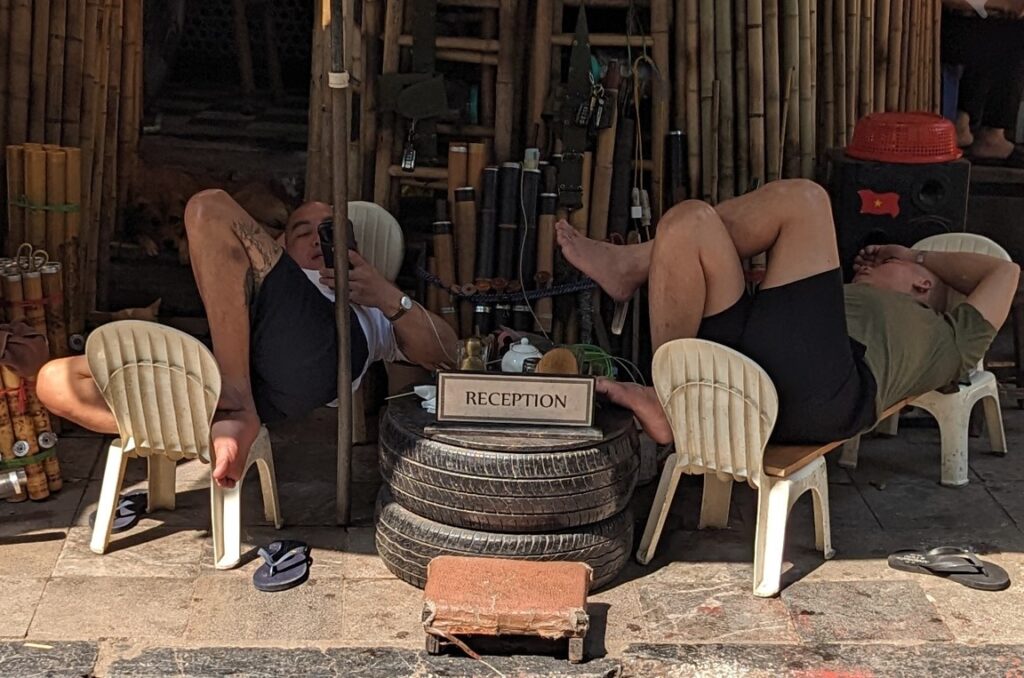 While I started this post with the sentence – We were surrounded by the hustle and bustle that was Hanoi and it was fantastic. I did not feel the same way by the time we left 3 weeks later. The constant beeping of horns was doing my head in. Some drivers and riders sat on their horn and while at the beginning this was cute, by the end I was threatening to jam that f$£*ing horn down their f$£*ing throats.
We loved our time in Vietnam, but we were also ready to leave by the end of the month.